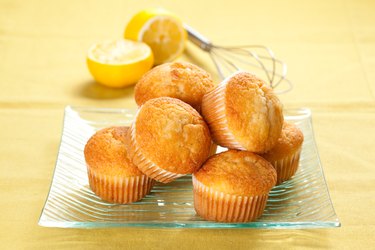 Heading to Spain on vacation or looking to spice up your breakfast routine? Typical Spanish meals look a little different than what you're used to eating. Breakfast foods range from the sweet to the savory. Light nibbles including magdalenas, churros and tostadas are popular options, often consumed alongside a strong cup of café.
Basics of Spanish Breakfast
Breakfast, or desayuno in Spanish, happens twice in Spain. The first breakfast occurs in the early morning hours when children are getting ready for school and adults are headed to work. Second breakfast occurs later in the morning, around 10 or 11, and serves to tide appetites until the 2 p.m. dinner. Spanish breakfasts consist of small portions designed to wake up the metabolism and curb hunger in preparation for the later, larger meal.
Sweet Eats
If you love a good donut or cinnamon roll, you'll appreciate the sweet side of Spain food culture. These breakfast dishes offer pastry and cake style treats with sugary, sweet flavors to start your day.
Magdalenas are a type of breakfast cake made of flour, eggs, sugar and olive oil spiced with cloves and lemon or orange zest. These simple pastries range from light and fluffy, like a sponge cake, to dense and heavy, like pound cake.
A light, sugary stick-shaped pastry, churros are made by frying dough until it's golden brown and crispy on the outside. While churros are still hot, they're sprinkled with cinnamon and sugar and served with a rich, chocolate dipping sauce.
A spongy cake made rich with the use of clarified butter, bica gallega is a sweet pastry with a crunchy sugary crust.
A type of sweet biscuit made with olive oil that is readily available pre-packaged, tortas de aceite are crisp and flaky and have a subtle anise flavor.
Savory Snacks
Do you prefer a savory breakfast? Traditional Spanish breakfast options include the savory to balance out the sweet. Two common options are bocadillos and tortilla de patata.
A small sandwich made of a split bread roll, bocadillos offer a more substantial snack typically consumed during second breakfast by those who have more labor-intensive jobs. Bocadillos may contain ham and cheese, sausage, canned tuna or half of a potato omelet.
A tortilla de patata is a simple potato omelet made with thinly sliced fried potatoes and eggs. Typically the tortilla de patata is seasoned simply with salt and pepper, though variations on the omelet sometimes include sauteed onions.
Tostadas, Three Ways
A tostada is a thin slice of grill-toasted bread that is typically accompanied with a variety of toppings.
A pan con tamate tostada is topped with fresh, ripe tomatoes, drizzled with extra-virgin olive oil and seasoned with salt and pepper, and sometimes garlic.
Tostadas are sometimes layered with meats and cheeses such as queso manchengo, a soft cheese made of sheep's milk, thinly sliced cured ham and sobrasada, which is a kind of spreadable chorizo. A tostada with meats and cheeses offers a more filling breakfast option.
Tostadas are also consumed simply with a smear of mantequilla, or butter, or sweetened up with fruit jams including orange, strawberry, apricot and quince.
Cafe Spanish Breakfast Drink
It's not all about the food at breakfast in Spain. Drinks in Spanish food culture are also important, especially in the morning.
Perhaps more important than any breakfast food, caf__é, or coffee, is a hugely popular breakfast beverage in Spain. Served in small, potent portions that Americans know as espresso, caf__é is often served with steamed milk as caf__é con leche, especially early in the morning. C_af__é_ solo, or black espresso, and caf__é cortada, espresso with a splash of milk, are also widely consumed.