The versatility of a George Foreman Grill knows no bounds. While the indoor grill is typically used to cook meat and vegetables, you can make anything from breakfast to dessert in just a few easy steps. Below are instructions on how to make eggs and cookies, as well as links to other recipes that you can try on a George Foreman Grill.
How to Cook Eggs on a George Foreman Grill
Things You'll Need
[object Object]

[object Object]
How to Cook Bacon on a George Foreman Grill
Tip
Thick-cut bacon is recommended, as thinner bacon may stick to the grill and can be more difficult to remove when cooked.
Step 1: Heat the Grill to High or Max
Note: There is no need to coat the grill with cooking spray when cooking bacon.
Step 2: Place the Bacon
Leave some space between each strip of bacon as you place it. Smaller George Foreman Frills can fit 3 strips of bacon.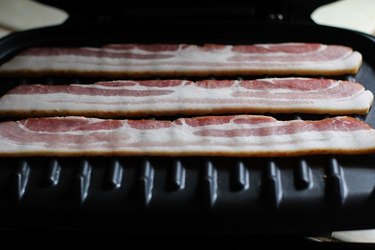 Step 3: Cover and Cook
Pull the lid down over the bacon, and allow it to cook until it reaches desired crispiness. For tender bacon, cook about 3 to 5 minutes. For crispy bacon, cook about 5 to 8 minutes.
Tip
Be sure to put the tray underneath the grill, as bacon drippings will run off of the surface.
Things You'll Need
[object Object]

[object Object]

[object Object]
Step 1: Prepare the Grill
Place a sheet of aluminum foil on the grill, and preheat on your grill's highest temperature setting. You can also use the removable baking plate made for Foremans if you have one.
Step 2: Place the Balls of Dough
Evenly space the dough balls on top of the foil so the cookies have room to spread. Small Foremans can fit 6 balls of dough.
Step 3: Position the Grill's Lid to Cook
Use a mug to prop up the lid of the grill so there is about 1 inch of space between the cookie dough and the lid.
​Cook 10 to 15 minutes​, or until the cookies are golden brown around the edges.
If using prepared cookie dough, follow the instructions on the package. You can use frozen, thawed or homemade dough.
Other Things You Can Cook on a George Foreman Grill
​Shish kabobs:​ Fire up the Foreman, and make these kabobs in less than an hour.
​Quesadillas:​ Make your favorite quesadilla extra crispy on the George Foreman Grill (or panini press).
​Burritos:​ They're always better with grill marks!
​Salmon:​ The George Foreman Grill is an easy and foolproof method for cooking seafood. Try a grilled peach salsa as an accompaniment.
​Paninis and grilled cheese:​ Use a George Foreman Grill in place of a panini press to whip up all sorts of delicious hot sandwiches.
​Grilled potatoes:​ Add a crispy char and flavor to your potatoes.
​Pizza:​ Use George Foreman's pizza cooking plate to cook a pizza on your grill.
​Chicken:​ An easy go-to for any night of the week.