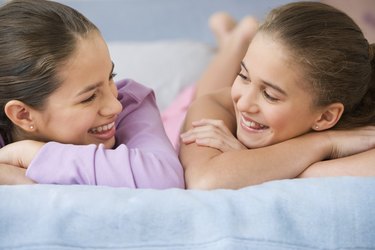 Slumber parties are one of life's simple pleasures for girls, and you can make your daughter's party even more special with creative and new activities. In addition to finding fun things for the girls to do, choose entertainment and games that help the girls deepen their friendships and form stronger bonds, since peer relationships provide important emotional support for pre-teen children, according to the Centers for Disease Control and Prevention.
Party Themes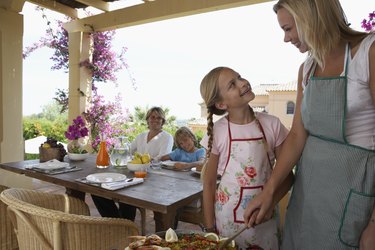 Parties with themes give you ready-made ideas for activities. Girls who love to cook can start the evening by decorating aprons with colored markers, then cook dinner and snacks for later in the evening. With a fashion theme, the girls experiment with makeup and nail polish, and create fashion-forward outfits made from clothing from an outing or local thrift store.
Pre-Planned Activities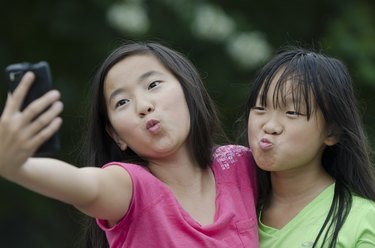 Think of the party food as an activity and have a taco station or a do-it-yourself baked potato bar, with condiments to top potatoes you've baked ahead. Craft projects might include decorating T-shirts, baseball caps or pillow cases with glow-in-the-dark pens -- place a sheet of cardboard inside T-shirts or pillow cases so the pens don't leak through. After decorating, give the girls cameras or have them use their cell phones to take group photos showing off their creations.
Fun and Games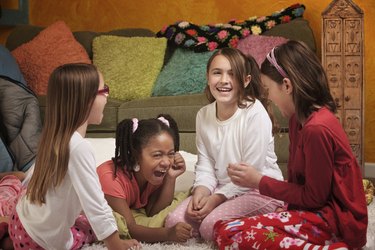 Board or card games that ask the girls to reveal something about themselves extend the girls' friendships and help the group come together for the evening. The truth-or-dare game works in the same way, as each girl picks a card asking them a question -- such as "What's your best quality?" -- or asks them to do something silly, such as a cartwheel or singing "Itsy-Bitsy Spider." If the party takes place in the summer when you have plenty of light, provide hula hoops for jumping, running and twisting games.
Party Entertainment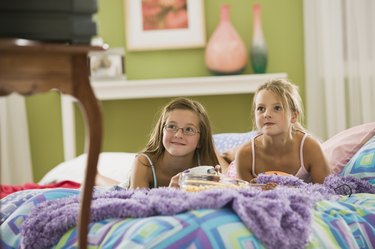 With a slumber party, the girls have plenty of time for a trip to the bowling alley or swimming pool before settling in at your home. Combine the trip with a stop at a casual restaurant afterward for dessert. At home, entertainment can be as simple as watching a movie accompanied by a generous tub of popcorn, or as elaborate as watching dance or cheerleading videos on the computer and then trying to copy them.