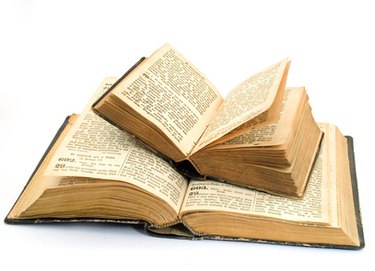 Vacation Bible School for adults is a mix of learning, interacting, devotional study and creative activities. It's an experience that offers both relaxation and spiritual guidance in a group setting of like-minded peers. Crafts help tie together the spiritual messages and lessons of VBS with entertaining interactive projects. At the end of the term, hold a VBS arts and crafts show to display everything you've created together. If you think it's a particularly nice collection and the crafters are willing to part with their creations, hold a craft sale to raise money for your church or a charity.
Bookmarks
Make a personal bookmark for your Bible. With a calligraphy pen or marker, write a favorite Bible verse, along with the book name and verse numbers, on a strip of construction paper; decorate the other side as you wish or simply sign your art work. Use a laminator or clear sticky shelving paper to cover both sides of the bookmark; this will both protect it and make it sturdier.
Draw praying hands or a single hand in silhouette onto card stock or a manila folder, then cut it out to use as a bookmark. Write favorite Bible verse numbers on each finger in different colors.
Draw or print small copies of pictures of favorite Bible stories or people. Laminate the cards and use them as bookmarks or reading guide markers during group discussions.
Guardian Angel Pins
Create angel pins by cutting out small drawn, rubber-stamped or paper pictures of angels. Laminate both sides and glue a pin backing to the back of the picture.
Make a three dimensional angel pin using fabric for the body and small wood balls or discs for the face. Paint the angel's face with paint markers or small paintbrushes Make the halo with craft wire and the wings with lace or wired ribbon.
Find a second life for waste material such as bits of wood and metal to fashion an angel pin. Carve or bend the pieces into an angel shape and, if necessary, glue the pieces together with strong wood or metal bonding glue. Paint on the details of the face, clothing and hair.
Crosses and Cross Art
Make a collection of crosses that you can hang on a wall and display on a tabletop. Use chicken wire to build a three dimensional cross frame. Cover it with fresh flowers stuck through the openings. Make a smaller version and cover the wire with paper mache. Let it dry and paint it with a biblical scene. Use leftover wood fence slats to make a large cross and decorate it with tole painting. Make a New Age cross out of soldered or glued metal pieces--a collage of nuts, bolts, nails and scrap bits of metal. Create a paper quill cross, glued onto card stock or textured paper. Make a cross from items you find on a nature walk, such as sticks, dried or fresh leaves and flowers or small pebbles.