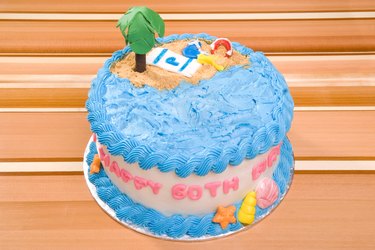 A milestone, the 60th birthday marks the beginning of a decade in which retirement most likely awaits. When you retire, you have much to look forward to: fishing with the grandkids, traveling the world, or writing a novel or painting. A 60th birthday cake's design may follow these dreamy themes -- or go for a tasty stroll down memory lane, one sweet decade at a time.
A New Era
Serve a birthday confection that depicts the 60-year-old celebrant's dreams of a decade when he can have his cake and eat it too, and the door opens for new adventures.
[Airbrush](https://www.ehow.com/video_5361526_airbrush-cake-decorating.html) an iced sheet cake with a scene of something your 60 year old dreams of doing in this promising decade. For food safety, _use an airbrush dedicated for edible icing_.

Create a photo cake, which, with the help of a photo editor and a recent picture of the guest of honor, puts her in a place or activity she looks forward to. Send the image to a bakery. If you do it yourself, _use a printer that is only used with icing cartridges and edible paper_.

Model [marzipan](https://www.ehow.com/how_2105268_decorate-cake-marzipan.html) into objects and people depicting happy retirement scenes. For example, turn a tier cake into a mountain with sugar-art backpackers and icing waterfalls flowing over the sides, or decorate a sheet cake or stacked tier cake with coconut sand -- tinted blue for the water -- and plastic or marizpan-modeled beach chairs and boats.
Cake Walk Through History
A 60 year old has lived through enormous cultural and technological changes, so present a timeline cake that reflects events and trends from each decade of his life. Begin with his early childhood and decorate a large sheet cake in the style of a timeline, with iced illustrations and text.
Alternatively, select or bake a newspaper-themed cake. Using photo-cake techniques, decorate a sheet cake with an edible photo made on the computer to look like the front page of a newspaper, with the news stories and pictures from the guest-of-honor's life. The main headline announces his 60th birthday.
Musical Review
Using satellite cake holders, display six round cakes, each decorated as a record representing tunes from each decade of her life. Since too much black food color will make your buttercream bitter, use dark cocoa and just a tiny bit of food coloring for a rich, black color. For the "record" grooves, use a cake decorating comb.
Pipe icing record labels with some of the birthday person's favorite songs from each decade of her life. Enliven the cake with icing pictures on the sides of each tier depicting dancers from each decade: poodle skirts and black leather jackets for the 1950s, bell-bottoms and mini skirts for the 1960s, back-to-nature patched jeans and disco duds for the 1970s.
Six-Pack Cakes
For the birthday celebrant who appreciates a cold one, a cake decorated as a six-pack of his favorite beverage is a worthy contender for consideration.
Create cake sculptures of six individual bottles lined up in two rows of three on a rectangle cake board. Create the six-pack "cardboard" carrier with rolled fondant. Use icing to create the label and a birthday message.

Decorate a sheet cake by piping icing onto the frosted cake into the shape of a favorite six-pack, whether it's hard lemonade or a micro-brew. Pipe on pictures of the birthday person's favorite snacks.

Model gum paste or marzipan into six-packs, including details such as bottle caps. Do the same for snacks, such as beer nuts or nachos. Place the sugar art onto a frosted cake.