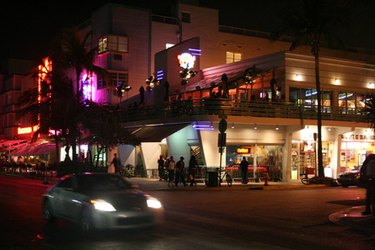 As the fourth-largest city in America, Houston, Texas, has many attractions, such as the Houston Museum of Natural Science, which features one of the biggest IMAX theaters in the country. This region of Texas also includes many popular and scenic state parks, such as the Sam Houston Park. The vibrant Houston nightlife contains a variety of 18-and-over clubs that feature DJs, tasty nonalcoholic drinks and huge dance floors.
Rich's Houston
Originally opened in August of 1983 as an 18-and-over night club that would appeal to club crawlers and music lovers alike, Rich's Houston club features such talented local DJs as "The Riddler," Wes Walz and DJ Johnny Jay performing almost every week night. This huge night club has also held live musical performances from such high-caliber entertainers as Dave Navarro, Cher, Pet Shop Boys and Cyndi Lauper. The expansive dance floor contains a spectrum of flashing lights, fog machines and loud sound monitors. As long as you are 18 or older, Rich's Houston offers house and hip-hop music night every Thursday and "Stereo Friday's" every weekend featuring national DJs.
Rich's Houston 401 San Jacinto Houston, TX 77002 713-759-9606 richsnightlife.com
The Shadow Bar
Featuring two weeknights that allow the 18-and-over crowd to have just as much fun as their older counterparts, The Shadow Bar includes P.Y.T. nights every Thursday that features Houston DJs spinning records all night. Thursday nights and Sunday's special Toxic Sundays Industry Nights encourage the young crowd to enjoy a huge techno bar area with exotic nonalcoholic drinks that they can order before dancing the night away.
The Shadow Bar 213 Milam Houston, TX 77002 713-221-5483 theshadowbar.com
Numbers Nightclub
Including special weekly events that feature DJs from Europe, such as King Britt, as well as rock bands like 16 Volt and Left Spine Down, Club Numbers welcomes the 18-and-over crowd every night of the week. Other event nights for the younger crowd include Friday Classic Numbers night with local DJs playing '80s, hip-hop, house and mash-up tunes until 2 a.m. This club also features huge digital video projectors accompanied by several large video screens and a loud sound system that is popular with the local club-going Houston crowd.
Numbers Nightclub 300 Westheimer Houston, TX 77006 713-526-6551 numbersnightclub.com