Having an Army going away party is a bittersweet gathering. It is a time to celebrate the soldier while acknowledging his or her great service to the country. It is also a chance for loved ones to give well wishes for a speedy and safe return. To put together the best going away party possible, consider the preferences of the soldier.
Photo Invitations
Order custom photo invitations for the Army going away party. If possible, have them printed on camouflage paper. Put a picture of the soldier, dressed in uniform, on the front of the invitation. On the inside of the invitation, include information such as location, date and time of the party.
Notes
Hand each person that walks through the door a piece of stationery. Ask the individual to write a note stating well wishes, memories or any other thoughts. Gather all the notes, then, at a later date, put them all into a scrapbook. Consider sending the scrapbook after the soldier leaves home.
Decorations
Popular decorations for an Army going away party may either be camouflage or red, white and blue. Instead of doing one or the other, consider combining both. Use plain white tablecloths and red and blue serving platters. Put out some red, white and blue balloons in addition to some camouflage balloons.
Camouflage Fabric
Consider putting some camouflage fabric, which can be purchased at a craft store or online, to use for the party. Put it over the couches, which can be especially helpful to keep them from getting dirty if kids are attending the party. In addition, put a piece on the inside of the front door as a welcome mat.
Favorite Foods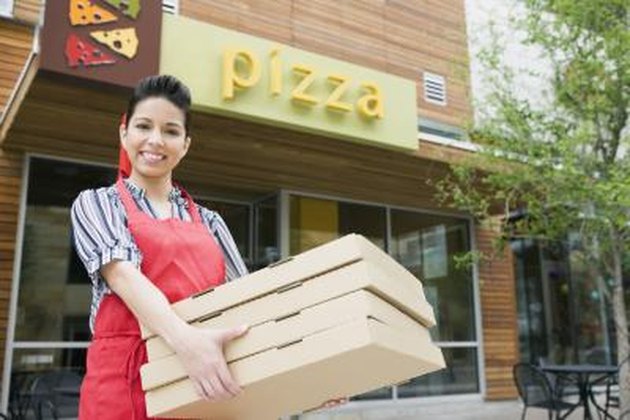 Instead of worrying about serving fancy food, consider making or ordering all of the soldier's favorite foods. Also, considering order some food from the soldier's favorite local eateries. In addition, think about serving some basic fast food items from a local food chain. Whether the soldier is going to live on base or is being deployed overseas, chances are the food will not be the same as it is at home.
Camouflage Cake
Bake a camouflage cake or have one custom-made. It is usually easy to create by baking a regular cake and using various colors of frosting to create the color scheme. As a color guide, use the soldier's uniform colors to match those going on the cake.