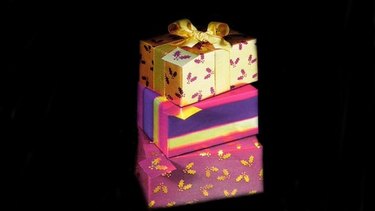 Whether you procrastinated or simply forgot about an upcoming birthday, last minute birthday planning is stressful. If you're scrambling to plan something special to celebrate a last minute birthday, there are several options that you can organize quickly. You'll still look good even if you didn't spend weeks planning the surprise.
Day Trip
A day trip doesn't require a great deal of planning but results in plenty of entertainment. Think about the interests of the birthday person when selecting the location for the last minute trip. Consider a shopping mall in a nearby town, a visit to a historic town, a day at a natural park or a day at a spa depending on the person you are honoring. The other advantage to the day trip idea is that you don't have to do it on the person's birthday. Print a decorative card that announces your intentions of taking the recipient on the day trip on her actual birthday. The two of you can then coordinate your schedules to find the best time to take the trip. This gives you a little extra time to plan the details of the trip.
Gift Basket
A homemade gift basket works well for a last minute birthday gift. You can get creative with the contents. By making the gift basket yourself, you can customize the gift. If wine comes to mind as a last minute gift, add a few other items such as wine glasses, wine glass tags and some gourmet cheese. Placing all of these items in a basket makes it look more planned. It doesn't take long to throw the items in a decorative basket, but the recipient will think you took a long time planning and making the basket.
Subscription
Subscriptions to magazines are easier than ever to purchase. Most magazines allow you to purchase a subscription online. You can print out a certificate to let the recipient know that his magazine subscription is on its way. There are magazines for almost any interest or topic making it easy to match the recipient's interests to a magazine.
Homemade Treats
Think about your own culinary talents and how they can translate into a last-minute gift. If you are talented at decorating cakes, bake and decorate the recipient a one-of-a-kind cake creation. If you know a lot about candy-making, whip up a batch of homemade chocolates. Those who brew their own beer or wine can offer up part of their homemade stockpile to the recipient. The handmade touch to the gifts makes them feel special and makes them one-of-a-kind.
Informal Surprise Party
A well-coordinated surprise party takes lots of planning. Instead of an elaborate party, organize a informal surprise party at a local restaurant or bar. Invite friends and family to meet at the location at a designated time. The guest of honor will get a surprise when she shows up thinking she's have dinner or drinks with you and finds all of her family and friends there. There are likely to be scheduling conflicts with a last minute party so don't expect a huge turnout.