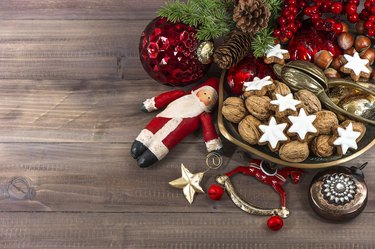 In the month of December, Christmas celebrants all over the world follow the familiar traditions of opening gifts, singing carols and gathering with friends and family. However, different countries have different traditional Christmas celebrations. An exciting way to help your children understand other cultures and how they celebrate Christmas is to make crafts from the traditions of foreign countries. As you make these crafts, talk about how you and your family normally celebrate Christmas and compare it with how other people celebrate.
Small German Gifts
A German tradition similar to that of hanging stockings is leaving a wooden shoe or a slipper next to the hearth for St. Nicholas to fill with small gifts for good children and twigs for bad. This tradition happens on December 6th. Tell your children about this exciting tradition and get a bunch of plain wooden clogs from a craft store or very plain slippers from a discount store. Help your children decorate the shores or slippers with paint, glitter, buttons, beads, ribbon and bells. Go to a dollar store and have all of your children choose three or four small toys and pieces of candy that their siblings might like. After the children go to bed, place the gifts they chose for each other into their slippers or shoes. Chocolate-dipped pretzel sticks could serve as twigs for "naughty" children.
English Surprises
Christmas in England and the rest of the United Kingdom closely resembles Christmas in North America. However, there are several distinct differences. One includes the tradition of crackers, colorful paper tubes with small toys and candy inside. When pulled apart, the traditional crackers make a loud snapping noise, giving the crackers their name. Make these at home from toilet paper tubes. Stick tiny story books, hard candy, chocolates and small toys inside each tube and stuff some tissue paper in after them to keep them from falling out. Wrap each tube in wrapping paper, gathering the ends of the wrapping paper, and tie them closed with ribbon. The next day, your children can each grip the end of a cracker and pull them apart. They won't make noise, but you can sprinkle glitter or confetti on the inside of the wrapping paper for an extra surprise.
Australia's Christmas in Summer
Since Australia's Christmas falls in the summertime, their traditions usually include a meal full of cold treats and seafood. Celebrants may spend as much time swimming on Christmas as they do opening gifts. Some Christmas traditions in Australia include stories of eight white kangaroos pulling Santa's sleigh rather than eight reindeer. Help your child build a sleigh out of cardboard and glue and paint it red. Fill a small cloth bag with little foam blocks wrapped in Christmas paper to represent presents. Then, get some white modeling clay and help your child mold several kangaroos. Be creative -- give one kangaroo a red Rudolph nose. Give one of the kangaroos a little joey or Christmas presents in her pouch. Let the clay self-harden and use string to make harnesses connecting the kangaroos to the sleigh. Put up the sleigh as part of your holiday decorations.
Scandinavia
Like most other parts of the world, Scandinavia has developed its own Christmas traditions. In place like Denmark, Sweden and Norway, boys dress up like Christmas billy-goats in costumes made of straw. This is the earliest Scandinavian Christmas tradition; some believe it even predates Christianity, and was simply absorbed by it later. Swedish girls wear wreaths on their heads with lit candles in them during the Saint Lucia procession and compete to be "Lucia" of the year. Both of these traditions can lead to fun crafts. Make a papier mache goat head that the children can paint and wear. Go all out and make a fake fur body with holes for arms and legs. Or let the children make their own leafy crowns and fake candles from craft foam and construction paper.