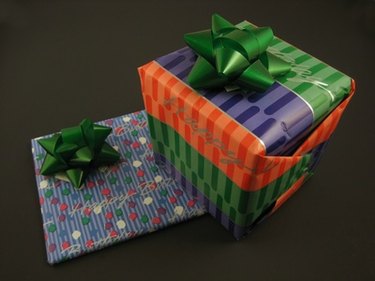 Turning 21 is a major milestone for most young adults, as it truly marks adulthood in ways that turning 18 didn't. Certain privileges and activities are not legal for those under 21, such as drinking alcohol, gaining admittance to certain clubs and restaurants or gambling in the U.S. Celebrate your 21st birthday, or that of someone you care for, in a special way to embrace its importance.
Parties
Throw a huge birthday bash in honor of the birthday celebrant. Include adult themes to signify his new-found adulthood or choose childish themes to celebrate his youth. Either way, the theme and tone of the party should reflect his personality. For example, throw a toga or frat-style party to introduce him to one of the new things he can partake in (drinking alcohol). Or, host a casino-theme party with gambling (fake money is fine) if going away isn't possible. Blackjack would serve as an ideal game since the object is to get "21."
If he's young at heart, embraces all things from his childhood and the party will include friends and family of all ages, consider a carnival or circus theme. Booths, such as dunk tanks, can be rented from some party stores. If he's a fisherman, hunter or avid sports fan, use that as the party theme.
Arrange some of the decorations into groups of 21, if possible. For example, a carnival or circus theme could include bunches of 21 balloons or 21 big lollipops. Place 21 poker chips inside of clear jars or beer mugs for a casino party. Bouquets featuring 21 flowers would work for a diva, spa or fancy party.
Vacations or Trips
Birthday vacations, shared with special friends or family, are another way to celebrate a 21st birthday. Plan a trip for all of the girls to go to New York City or Hollywood for star-quality spa treatments, shopping and clubbing. Go to a gambling destination, such as Las Vegas or Atlantic City where she can gamble, drink, go clubbing, go shopping and enjoy fine dining.
If your budget allows and it's something she'd enjoy, consider a vacation at a beach resort in the Caribbean, Mexico or Hawaii. Train rides or backpacking trips through the countryside of Europe are other options.
Take a road trip to visit 21 different cities or landmarks. If she enjoys the outdoors, go camping, hiking or rock climbing; but choose a challenging or new place that she hasn't conquered yet.
Outings
Plan a train ride through the countryside, followed by a visit to a vineyard and winery. Or, tour a brewery if it's more his style. Go club hopping or bar hopping, whichever fits his personality. Another option is to have a moving party where his friends can meet up with him at a restaurant for appetizers, another for entrees, a third for dessert and a bar for a nightcap.
Adventurous outings might work, if he's daring. Take him bungee jumping, skydiving, parachuting, scuba diving, getting a tattoo or parasailing for a birthday he isn't likely to forget. For a calmer adventure, consider a hot air balloon ride.
Gifts
Consider giving the birthday celebrant something special to signify the importance of his milestone birthday. A stamp or gold coin collection bearing the year of her birth, or every year of her life is significant and valuable. Consider having a mixer set or wine accessories engraved with her name, birthday message, the date of her 21st birthday or something else that's meaningful to the two of you. Give her tickets to see her favorite band or musician perform, and include backstage passes if possible.
Practical gifts that pertain to her current situation would likely mean a lot as well. For example, furniture or items for her home if she recently moved into her own place or a new instrument if she's a musician. Make her a 21-page scrapbook detailing some of the moments of her life that make up your favorite memories of her.
Help her accomplish one of her goals by gifting her flying lessons, music lessons or whatever experience or lessons that fall into her life plans.