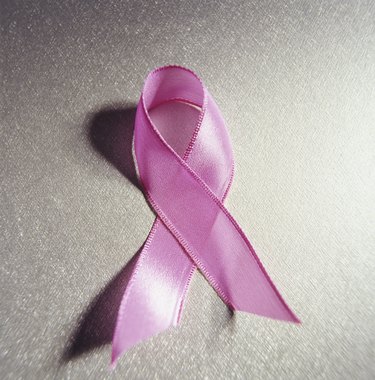 National Breast Cancer Awareness Month happens every year in October, kicking off with charity events, fundraiser walks, seminars, speeches and survivor celebrations across the country. Whether you, a friend or family member is a survivor or you simply want to show your support for eradicating the deadly disease, you can take inspiration from the awareness campaign's pink theme and pink ribbon icon.
Front Door Wreath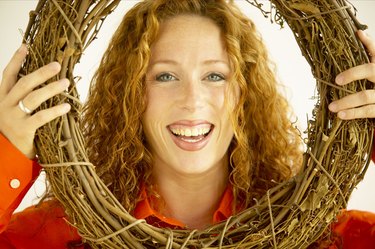 Purchase an inexpensive pre-made wreath at a craft store. Craft stores are also a helpful place to find other wreath decorations; pick up a spool of wide pink ribbon, tiny pink flocked teddy bears, pink craft hearts and pink beads, plus a container of white school glue. At home, cut a strip of the pink ribbon and set it to the side, then wind the rest of the ribbon in and out of the wreath, securing the ends by tucking them behind one of the wreath's branches. Next, glue the bears, hearts and beads around the wreath; choose a design that suits your preferences. Let the wreath dry, then pin or glue the remaining strip of ribbon into the iconic breast-cancer ribbon shape directly in the middle of the wreath.
Home Decor Ribbons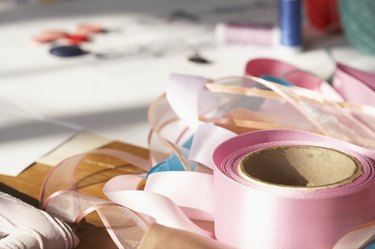 The pinned pink ribbon has become the international symbol of breast cancer. Buy a variety of pink ribbon strands from a craft store (you can find superthick ribbon, thin lace the width of shoelaces, and silky and coarse varieties), then use pins to form them into the ribbon shape. Place them into a basket and walk throughout your home, looking for areas to add them to your decor. For example, hang a larger ribbon off a prong of your coat rack, slip one over a leaf of a ceiling fan not in use, and place one on one of the branches of a ficus in the corner. You can even use double-sided tape to attach a small one to the corner of your computer screen, place magnets on the backs of some and add them to your refrigerator, and tie one (gently) to your car's antenna.
Tablecloth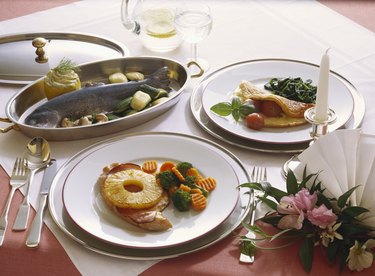 Breast-cancer-related fabrics (such as pink-ribbon-emblazoned material) are available from cloth stores; ask the salesperson to cut you fabric that is slightly larger than what you think you'll need for your table to ensure you have enough. At home, wash and iron the fabric, then lay it out on a flat surface with the design side down. Fold over the edges and press them with the iron two times. Let them cool, then pin the edges down, sewing along the new hem of the tablecloth (either with a machine or by hand). Remove the pins and set the tablecloth in place.