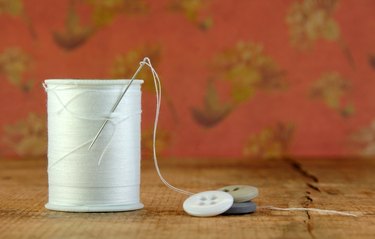 If you can baste, sew buttons and use iron-on hem tape or fabric glue, you have all the skills you need to make a Revolutionary War costume for your child. Instead of sewing the costume from scratch, start with garments from your family's closets, a thrift store or a consignment shop and transform them into Minuteman, Continental soldier and Redcoat uniforms. When you accessorize your child's costume, keep in mind any restrictions regarding toy guns and weapons.
Colonial Minuteman
The Minutemen were skilled members of America's militia, but they had no standard uniform. They wore their everyday clothes, which included breeches, shirts, waistcoats and long jackets. To create a costume, start with a pair of solid-colored knee-length pants. Depending on the size of the child, long shorts, Capri pants or athletic pants can be used to resemble breeches. Have the child wear tights under his breeches or long socks to cover his lower legs to represent the stockings worn. Use a woman's white blouse for the minuteman's shirt, which was long and loose-fitting. Over the shirt, layer a long buttoned vest known as a waistcoat and a long overcoat. To add authenticity to the coat and vest, replace the existing buttons with brass buttons. For footwear, use plain leather shoes or low boots with laces.
Continental Soldier
After the Continental Army was created at the start of the American Revolution, General George Washington chose blue as the color for the uniform coats. A Continental soldier's basic costume is similar to that of a Minuteman: breeches, buttoned shirt, vest and tights or long socks, but all in white. To make a Continental soldier's coat, start with a blue suit jacket that falls to the child's knees. Remove the buttons and attach a band of red felt to the plackets, collar and cuffs. Sew brass buttons onto the cuffs and corners of the collar and a row of buttons to each placket. To complete the look, have your child wear long white socks and plain leather shoes.
British Soldier
The British soldiers' bright red uniforms earned them the name Redcoats. To make a British soldier's costume, use a pair of white breeches, a white buttoned shirt, a white buttoned waistcoat and white tights or long socks. For the uniform coat, use a red suit jacket that hangs to the child's knees. Remove the buttons and cover the plackets, collar and cuffs with bands of dark blue felt. Sew brass buttons on the blue felt bands and trim the bands with gold braid or cord. Use gold trim to add more details on the shoulders and along the hem of the coat. A British soldier costume should also include long white socks and leather shoes.
Accessories and Equipment
Accessorize your child's Revolutionary War costume with equipment and gear that add authenticity. All soldiers had a knapsack for carrying food and supplies and a cartridge box for ammunition. Have your child carry a plain canvas sack with shoulder straps and wear a small leather bag on his hip to mimic Revolutionary gear. Many Revolutionary War canteens were made of wood. To make a copy, cover a small round metal tin with wood-grain adhesive-back paper and glue a wine cork to it. As an alternative to a replica weapon, your child can carry a fife, bugle, marching drum, or 13-starred flag on a pole. Buckled shoes are hard to come by in the 21st century, but you can purchase buckles at a craft store and lace them to your child's shoes. Complete the Revolutionary War costume with a tricorn hat made from black poster board or felt.