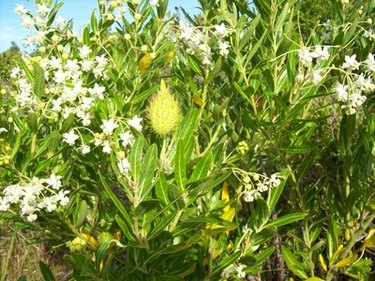 A shrub is a type of woody plant similar to but often much shorter than a tree. Shrubs are classified by their height (typically below 15 to 20 feet) and their multiple stems. An evergreen shrub is a shrub that has its leaves year-round. Evergreen shrubs are often used in a garden as a sort of backdrop to non-evergreen trees that shed their leaves in autumn and often remain bare in winter. Keep in mind, different shrubs may thrive in different areas due to temperature, weather and soil conditions.
Gwenllian
Gwenllian (scientific name: Viburnum tinus) is an easy to maintain evergreen that contains deep pink flower buds in the winter along with dark, leathery, green leaves. The shrub will survive in the shade, though the flowers bloom best when in fully sunlight. The shrub does not need special soil conditions, to avoid wind, or need to be planted at any specific time of the year. You can even cut down the shrub to nearly ground level in the spring if needed. Gwenllian grows to about 10 feet tall at most.
Pink Escallonia
Pink Escallonia (scientific name: Escallonia macrantha) does not need a lot of water to survive and has a beautiful bloom in the spring and summer. The blooms are rose-mauve and may last from the middle of spring until the beginning of fall. The shrub grows around 8 to 10 feet and grows best when it is put in rich soil that is well drained. Pink Escallonia also tolerates salty environments, which allows it to grow in an area that may receive salt deposits in your garden.
Itea Ilicifolia
Itea Ilicifolia, known by its catkins of pale green flowers with a distinctly sweet smell, is a great way to put some variety into your garden. This shrub is typically grown against a wall, but it can be grown free-standing as well. The plant can survive quite well in fertile soil, though it is best to avoid cold winds. It is a tough shrub to kill, so it may be a good shrub to start out growing if you're a shrub beginner. Itea Ilicifolia can grow to around 10 feet within a few years.
Holly
The holly shrubs (the genus Ilex) include hundreds of evergreen shrubs and have the familiar look of spiny, glossy leaves with colorful berries. Holly shrubs can be planted and grown in all 50 states and often grow best when they are planted in autumn during a cold frame. They survive well in full sun or partial shade and grow best when put in moist but well drained soil. Depending on the species, the holly may grow past the point of a shrub and into the height of a tree.
Fargesia Murieliae
This shrub can be classified as a bamboo, which makes the plant much lighter than many thick shrubs and gives your garden some variety. The shrub can reach about 10 feet in height and survives best in moist soil and light shade. If your garden is windy and dry, the Fargesia murieliae will not grow will, but if given ideal conditions, the shrub will grow quite well.