These adorable bunny cupcakes are must for your Easter gathering or any spring occasion that calls for desserts! The cute little ears and cotton tails are a fun way to transform an ordinary cupcake into something irresistibly cute.
Watch the Video
Things You'll Need
Plain vanilla cupcakes baked in cupcake liners

Cotton balls

Glue

Marshmallows (one marshmallow per cupcake)


Cooking scissors

1 cup white granulated sugar


White icing

Pink food coloring

Pink sugar pearls

Pen frosting

Mixing bowl

Spatula
Step 1: Glue On the Cotton Balls
Take a cotton ball and glue it to one side of the cupcake liner. This will be the tail for your bunny. Repeat this step on each cupcake until they all have a "tail."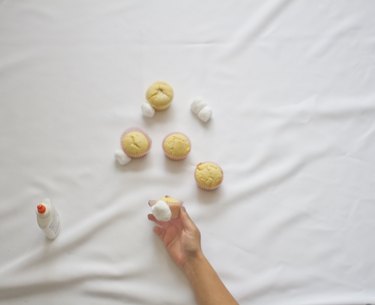 Step 2: Cut the Marshmallows
Take a marshmallow and cut it in half diagonally with your cooking scissors. These will be used to create the bunny ears for your cupcake. Use one marshmallow for each cupcake. Once they are cut, set them aside.
Tip
Pinch the tops to create a bunny ear shape.
Step 3: Color the Sugar
Fill a small mixing bowl with sugar. Drop 1 to 2 drops of pink food coloring into the sugar, and mix in the food coloring with a spatula.
Tip
If you desire a darker color use more than 2 drops of food coloring.
Step 4: Coat the Marshmallows
Next, dip the inside of each marshmallow half into the colored sugar to create the inner ear of the bunny ear. Set these aside.
Step 5: Ice the Cupcakes and Attach the Marshmallows
Drop 1 to 2 dollops of icing on a cupcake. Using the spatula, generously spread the icing and then attach the marshmallow ears on top of the cupcake.
Step 6: Decorate
Finish your bunny cupcake by adding two dots of black gel icing to create the eyes and add a pink sugar pearl for the nose. Eat and enjoy!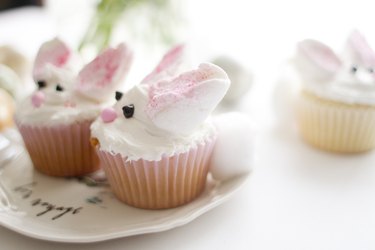 Making Vanilla Cupcakes from Scratch