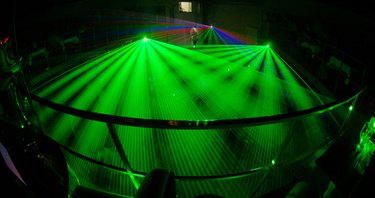 Finding places to go out and party when you're 18 but not 21 is always a challenge. Liquor laws and insurance regulations conspire against you. However, in Worcester, Massachusetts, the task is not nearly impossible. There are a number of places in the city that allow adults who are not yet of drinking age to hang out and party.
Blue Ultralounge and Night Club
Blu Ultralounge and Night Club is a gay and lesbian club for everyone over 18. The club has a regular weekly lineup from Wednesday to Sunday that includes karaoke on Thursdays, a hip house night on Saturday, and a Sunday night drag show. Blu frequently has no cover (even for the under 21 set) and when there is cover it is generally under $10 as of 2010.
Blu Ultralounge and Night Club 105 Water Street Worcester, MA 01604-5033 (508) 756-2227 www.blu-nightclub.com
Fusion Lounge and Night Club
Fusion Lounge and Night Club aims for the feel of an uptown Manhattan night club. Unfortunately, Fusion is not 18+ the whole weekend. However, those looking for a place to go on Wednesday (karaoke with no cover), Thursday (a night which advertises itself as "Worcester's Largest 18+ Party"), and Sunday (18+ for ladies only with a $5.00 cover as of 2010) will find a classy place to party. There is a "college casual" dress code which bars hoodies, bandannas, plain white t-shirts and tank tops, sunglasses, knit hats, work boots and athletic gear.
The Palladium
The Palladium is Worcester's premier rock club and is open to customers of all ages. The venue known primarily for alternative, hardcore, and metal bands, but has also played host to Prince, Wu-Tang Clan, and Sean Paul. The Palladium is perhaps most famous for its annual New England Metal and Hardcore Festival a weekend-long event that entered its 12th year in 2010. If you enjoy loud rock music or are just looking for a walk on the wild side, the Palladium is the club in Worcester for you.
The Venue
The inauspiciously named The Venue is a recent addition to the Worcester night life, opening in 2008. This two-floor, over 10,000 square feet night club boasts a stage, two dance floors, a VIP room, several VIP booths, and tables away from the main action of the club. Cover generally increases after midnight, and don't be caught wearing hoodies, work boots, plain white t-shirts, or athletic apparel your might get stopped at the door. Also, gents should call ahead, as some nights are only 18+ for the ladies.