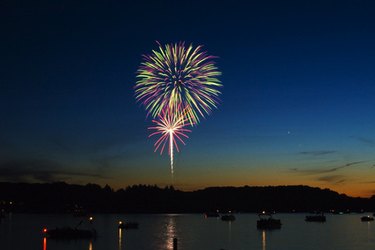 Celebrating a company anniversary is a big deal. It's a time to gather all the leadership, investors and employees together and celebrate the company's accomplishments and the people who've made it possible. A successful company anniversary celebration should demonstrate appreciation, share the company's yearly achievements and provide clear direction for the future. It should be full of energy, life and excitement. Incorporating various elements such as special performances, a presidential address and a guest speaker can all make the event one to remember.
Special Performances
Special performances are one way to build energy and excitement among the attendees. If the company is small, hire local talent to get the crowd pumped up. If the company is larger and it can afford a more predominate performer that would not only be loved by the attendees but would probably attract some press as well. The performances can be at the beginning, at the end or spread throughout the event.
Presidential Address
The president of the company can address the crowd with an inspiring and uplifting message. He can share his appreciation for all those in attendance and give his perspective of where the company has come from and where it's headed. The president is the public figure that has the most power to impact people's perception of the company and it's culture.
Guest Speaker
The company can hire a key note speaker that is noted in the field of the company or business. A popular leadership speaker such as John Maxwell is a good option for a guest speaker. Other appropriate speakers can be retired U.S. Presidents, other C.E.O.'s of successful corporations or a famous news commentator.
Food and Drink
Provide food and drink before and after the event to encourage the people in attendance to mingle and socialize. The food and drink can be centered on the central theme of the event. For example, if the celebration's theme is the United States, the food and drink can follow the same scheme with red, white and blue colored pastries and punch. Providing coffee after the event ends will invite people to stay a while and interact with their leaders and co-workers.
Decorations
The decorations should celebrate the company's success. Lots of balloons, confetti and streamers all add an element of celebration and excitement. Up-beat music can also be played in the background before and after the event such as jazz, dance or pop rock.