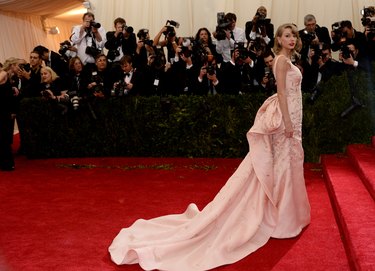 Video clips of classic and contemporary Hollywood gowns show why designers often choose satin. Satin's silky weave gives it a rich, glamorous presence. It has enough body to drape, hold its shape and move with the wearer. The way it catches light and shadow under lights makes it a top choice for costume making. The downside comes from the challenges of working with it and cleaning it. Using satin to good advantage requires practice and skill.
What It's Good For
With its luxurious sheen, satin works well for home decor and crafts such as fabric flowers and wedding favors. Fibers that "float" above others in its weave give the fabric its silky texture. Crepe-back satin is a classic lightweight fabric that suits contemporary fashions, period costumes and vintage-inspired clothing. It flatters most figure types. Satin creates contrast with other dressy fabrics, such as velvet, tulle and lace. "Antique satin," heavy and reversible, has one smooth and one textured side. Its rich look works well as an accent fabric or lining for capes, jackets, lapels and smoking jackets. "Slipper satin" is a durable version with a high thread count, commonly used for wedding dresses and other formal attire.
Key Disadvantages
This slinky material isn't a beginner's fabric. Its slippery texture takes experience to master. Without careful, skilled construction, a satin garment or other project can hang poorly and show puckered seams. The weave shows needle holes; it's much less forgiving of sewing errors than most fabrics. The silkiest satins, such as those made from actual silk, are delicate. They're prone to snags, thread pulls and surface abrasions that can ruin the fabric. Other than inexpensive synthetics with a tight weave, satins aren't machine washable. Silk satin requires dry cleaning. Synthetics include nylon, polyester and acetate. Acetate is flammable. Don't use if for children's costumes or for decorations that could be exposed to heat or flame. Before buying satin, check the end of the bolt for care instructions.
Cutting and Sewing
To overcome some of satin's disadvantages, practice on scraps. Remove jewelry or a watch that could catch on the fabric. Check the satin's nap and lay all the fabric in the same direction. Hold the fabric when setting pins to keep it from slipping, and position silk pins in the seam allowance only. Cut satin with sharp sewing scissors or use pinking shears to reduce raveling. For machine sewing, use a new needle, such as 60/8 for lightweight satin or up to to 80/12 for heavy fabric. Set the stitch length for 12 to 15 stitches per inch. Maintain a firm hold on the fabric as you guide it to avoid puckers.
Craft and Embellishment Challenges
Check your fingernails and cuticles before you handle satin. Trim and file them if needed so they won't snag the fabric. For craft construction, such as gluing satin for a purse, use fabric glue and apply it lightly. Craft glue tends to soak through satin, ruining it. Press any bubbles out gently with your fingertips. Use a backing fabric such as interfacing before adding beading, rhinestones or sequins to satin. The backing supports the weight of the embellishments and reduces the risk of damaging the fabric. In case of mishap, adding a lace overlay can camouflage minor surface damage.