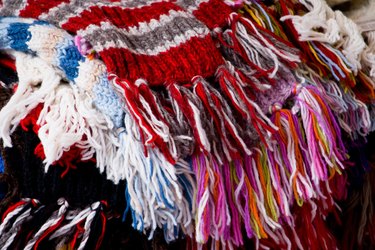 While you can come up with dozens of gift ideas for your son at any given moment, gift ideas for your daughter-in-law are not always that easy. There is no need to subject yourself to torture looking for the gift of her dreams. Instead, focus on an inexpensive gifts that speaks a clear and simple message of support of her marriage to your son and full acceptance into your family.
Handmade
A personally crocheted scarf, a handmade quilt or piece of hand-crafted woodwork show your daughter-in-law that you are willing to give not just money, but your time for her benefit. She will treasure those handmade items you give to her and will enjoy talking about them to her friends.
Family Photos
Now that she is a part of the family, fill your daughter-in-law in on all those precious memories your family made in the years before she married your son. Make professional color copies or even give her original photos of her husband growing up. Frame several individually or make an attractive collage. Take note of her office or hobby room and choose frames that match her décor.
Family Heirlooms
Take a look through your curio cabinet and around the house and look for knick-knacks or jewelry pieces that belonged to your parents or grandparents. Wrap up one or two of these in a box and surprise her with it one day. Explain that you want her to have it now that she is a part of your family. She will be touched at your sacrifice and delighted to give it to your grandchildren or perhaps to her daughter-in-law one day.
Collectibles
Does your daughter-in-law collect thimbles, dolls, antiques or some other special item? Show her that her interests are your interests, too. Start a birthday or holiday tradition of giving her a piece for her collection every year. You know you cannot go wrong; she will look forward to the continued growth of her collection and think of you when she looks at it.
Recreation
Defy the stereotypes of possessive in-laws with a gift that encourages your daughter-in-law to enjoy fun one-on-one time with your son. In fact, a recent study on marriage from the University of Denver even suggests a high correlation between marital success and the amount of "fun time" couples make for each other. Event tickets or state park passes are examples of recreational gifts. Not only are they affordable, they gives your son and daughter-in-law reasons to go out and have fun together on the weekends.