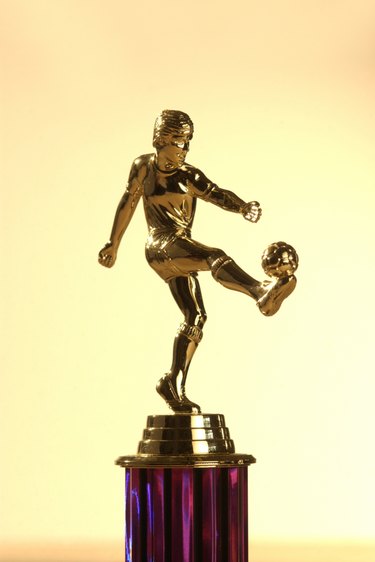 Sports and athletics are naturally social activities, so planning a banquet for these themes are easy and simple. Whether it's to celebrate the end of the year or the upcoming big game, the fans and players will appreciate a well-thought banquet. Best of all, a lot of the themes and decoration colors are already set, so all you need to worry about are the activities, awards and foods.
Decorations
For an athletics banquet, the decoration themes can be set around the team's colors, logo and mascot. Tables, chairs and walls can all be dressed up with simple colored paper. Centerpieces can draw off your athletics type, like hats for baseball and helmets for football.
Foods
The meal is also pretty simple, as you can use what those people like to eat at the games. Hot dogs, hamburgers and pizza might not be all you want to serve though, so think about setting up a small buffet with appetizers and a variety of dishes that people can choose from. It's better not to have a "set" meal for an athletics banquet because your focus will not be on the food.
Awards
Awards and trophies are a great way to recognize all of the hard work and dedication by the players, coaches and parents. Even if the season was a loss, you can still hand out awards like "MVP," "Most Improved Player," "Most Dedicated Mom," and many others so that everyone gets a trophy to take home. If your athletics banquet is for the younger kids, this trophy or award will be something they will likely keep in their bedrooms for many years.
Parting Gifts
A fantastic way to remember and cherish the season long after it's over is by handing out token gifts to everyone as a memento. Great ideas for this include a three-ring binder filled with pictures from parents and fans, old scorecards or tournament brackets, newspaper clippings and anything else that will symbolize the season. Another version of this is the keepsake CD slide show. You can put all of your favorite pictures and videos on the disk, and set it to some of the team's favorite music they listened to over the year while they got pumped up for the game.
Activities
Some great, fun moments at the banquet will likely be the activities. These activities can include going around the room and have each player, coach or parent tell their favorite season moment. These highlights will often be hilarious and touching. You can also have them explain how and why they grew as an athlete and a person over the course of the season.