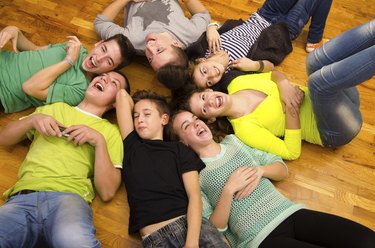 Whether the purpose of the youth rally is to educate, increase awareness of a social issue or build enthusiasm for a common cause, a theme helps tie together the activities, such as games, songs, presentations and workshops. A rally theme also adds interest and inspires activity ideas. Theme ideas can be adapted to align with the values and practices of the hosting organizations.
Make a Difference
This rally calls young people to take action and make the world a better place. Built around the inspiring and uplifting song of the same name by Steve Angrisano, the rally covers topics such as homelessness, poverty, human rights, AIDS or providing safe drinking water to Third World countries. The rally can coincide with Make A Difference Day, held annually on the fourth Saturday of every October. Hold a food or clothing drive in conjunction with the rally. Participants receive a directory of local agencies that need volunteer help.
Spread the Light, Share the Joy
This theme educates young people about the many small ways they can share their time and talent within their home, church, neighborhood, city and state. Presentations give ideas on how participants can "spread the light" through prayer, service and sharing talents. Incorporate flashlights into tag and other games to reinforce the "light" theme of the rally. Use candles to create an inspiring closing ceremony. Light one large candle at the front of the room, then have one participant light her candle from it. She should then bring her candle to another teen, allowing that teen to light his candle while she says "now go into the world; spread the light and share the joy." Continue until all candles are lit and the formerly dark room is aglow.
Road Map to Success
A road-map-themed event can be especially effective for youth gatherings that focus on career and job hunting. Give all participants a "road map" to different stations where they can learn job-hunting techniques, practice interviewing in front of a human resources professional, have their resume critiqued or take short workshops about developing a teamwork mentality or surviving your first day on the job.
Lead the Way
This rally teaches participants how to be leaders. Include workshops on effective group leadership, managing personalities within a group or handling conflicts. Participants practice using parliamentary procedures to run a meeting or develop a budget for an imaginary youth organization. Include sessions on the administrative aspects of running a youth group, such as balancing an organization's checkbook or keeping a membership roster. For fun, include games that build teamwork and cooperation among the participants.
Stand Tall
This gathering helps participants build self-confidence and shows them how to deal with difficult situations, such as standing up against bullies and overcoming negative peer pressure. Role playing, games and motivational speakers help participants build their self-esteem and poise.