A 50th birthday is a monumental event in an individual's life. When a friend or loved one celebrates this milestone, you and others might want to make a scrapbook to commemorate the event. One page might include personal messages from family and close friends. Then, you can invite family and friends to each design another page -- and you can assemble those pages together to create an entire scrapbook.
On This Day in History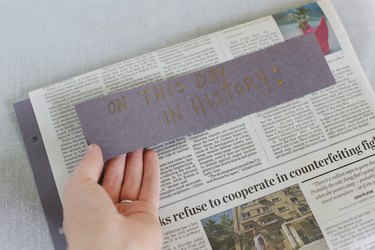 One page might honor the day that the celebrant was born by recognizing historical events that occurred on the date of his birth. Research things that happened on that date and tie them into the page you're creating. Use newspaper as a background for the page, and create headlines, such as "On this Day in History..." The largest headline can be the birth of the birthday celebrant.
Achievements
Another page in the scrapbook might include the celebrant's achievements over the last 50 years. You can incorporate pictures of graduations, his wedding, as well as his children and grandchildren.
Birthdays Throughout the Years
Dedicate another page to pictures of other milestone birthdays in the celebrant's life; for example, her 5th, 18th, 21st, 30th and 40th birthdays. Use stickers of balloons, invitations, noisemakers and other party-related items to make the page fun and festive.
My Favorite Things
Center another page on the recipient's favorite things. For example, if the beach, boating, travel and chocolate are some of his favorite things, you can include pictures of him enjoying these things throughout his life. You might use paper that offers a beach scene as your backdrop -- and affix stickers of boats, airplanes and candy wrappers to the page.