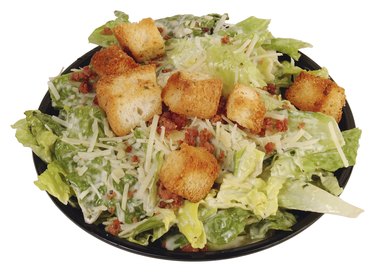 Caesar salad is the brainchild of Italian-born restaurant owner Caesar Cardini. However, others have taken credit for this recipe as well. In 1896, Cardini opened an eatery in Tijuana, Mexico, a short distance from his San Diego home. Cardini threw this salad together on a busy weekend in 1924 when he found himself short of many basic pantry ingredients. You can make Cardini's now-famous salad with some basic ingredients.
Croutons
Homemade croutons are one of the ingredients that make this salad stand out. They are simple to make and are much tastier than their commercial counterpart. For the average size salad, 2 cups of bread cubes should be sufficient. Day-old bread works best. The croutons should be approximately 1/2 inch in size.
Garlic Oil
Homemade garlic oil is equally simple to make, and you can use it in a wide variety of dishes. Puree 2 to 3 cloves of garlic with a pinch of salt and 3 tbsp. olive oil. Garlic oil will be used to lightly brown the croutons before serving.
Lettuce
Romaine lettuce, otherwise referred to as Cos lettuce, is another component of Caesar salads. Rinse the lettuce, allow it to dry and then separate or break it into individual leaves. Refrigerate the lettuce in a plastic bag until ready to use. Use two heads for the average-size recipe.
One-Minute Eggs
Boil two eggs for 1 minute. Cooks often refer to eggs cooked for this length of time as "coddled eggs." Just before serving and prior to adding dressing, break the eggs over lettuce and toss well to coat evenly.
Dressing
The dressing for a Caesar salad consists of salt and pepper (to taste), 1/4 cup and 2 tbsp. olive oil, juice of 1 lemon, 6 drops Worcestershire sauce and 1/4 cup Parmesan cheese. In lieu of homemade dressing, bottled Caesar salad dressing is available at most major food chains and online.