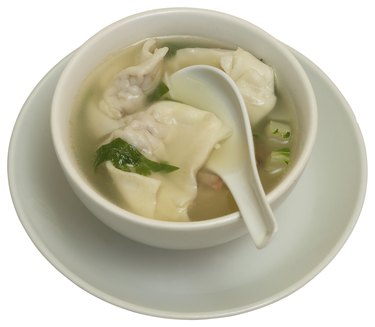 Wonton is a versatile food similar to dumplings and dim sum. The triangular dumpling can be filled with non-traditional wonton ingredients to make creative dishes. The Chinese specialty can be used in different dishes, and home cooks will find it easy to prepare.
Wonton
Wonton is a pasta filled with meat or vegetables. It's sometimes referred to as the Chinese version of ravioli. Wonton, traditionally filled with minced pork and onions, is shaped into triangular pockets that resemble fortune cookies. Wonton is usually served as an appetizer in a delicate, clear chicken broth with chives.
Wonton Wrappers
Wonton wrappers are a simple egg noodle in a square shape. Wonton wrappers are made very thin for use in wonton soup and thicker when preparing wonton for frying. To make the wrappers, combine egg yolk, flour and water to make the dough, roll it out and cut it into 4-inch squares. Homemade wonton wrappers will stick together when stacked, so dust cornstarch between wrappers to keep them separated. You can store the wrappers in the freezer. Grocery stores and Asian specialty grocers also sell wonton wrappers.
Wonton Recipes
Traditional wontons filled with pork are prepared boiled or fried. Variations of wonton filling include ground meat such as chicken, turkey or beef, and seafood such as crab or shrimp. Most vegetarian wontons are filled with mushrooms, tofu and finely chopped mixed vegetables. You can also use mashed potatoes, cheese or squash to make interesting wontons with flavors from different types of cuisine.
Wonton Wrapper Recipes
You can use wonton wrappers for recipes other than wontons. The noodle is versatile and can be paired with both savory and sweet flavors. Sweet wontons can be filled with chocolate, Nutella, honey, bananas, chopped nuts and jam. You can fry the wrappers and use them as chips to dip with sauces. Bake wonton wrappers in a muffin pan to make an edible cup for appetizers. You can also use wonton wrappers in place of pastry dough to make deep-fried cheese, wrapped hot dogs, samosas or empanadas, all tasty finger-food appetizers for parties.