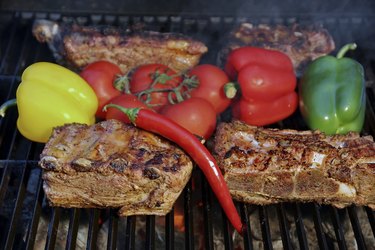 Brisket, when properly prepared, is a tender meat dripping with flavor. The dish is commonly prepared as barbecue, giving you a wide variety of sides to make your meal complete. Think about dishes you normally enjoy in your summer cookouts when thinking up a side for your brisket entree.
Simple Salad
A light salad offsets the bold, meaty flavor of beef brisket. The touch of freshness in your meal adds a diverse and rounded feeling to your meal. The salad goes especially well with barbecue brisket because the fresh crunch of the vegetables contrasts with the crunchy edges of the grilled meat. Keep it simple, though, to avoid stealing focus from your brisket entree. Use spinach leaves or romaine lettuce for the base. Top it off with shredded carrots, sliced tomatoes, cucumbers and a dressing of your choice.
Mashed Potatoes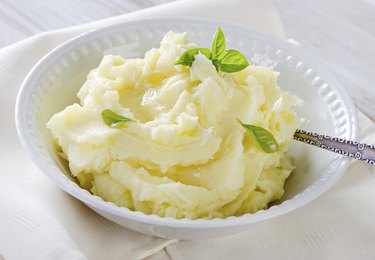 The creamy taste of mashed potatoes is a common companion of meat dishes. Beef brisket is no exception. Adding mashed potatoes to your meal provides you with a warm, pleasant vegetable side that compliments the taste of the beef. Top off your mashed potatoes with the brisket, and allow the juices from the meat to mix with the potatoes. You can make instant mashed potatoes, but potatoes made from scratch offer you variety for the finished project. For example, you can keep the potatoes slightly lumpy if you make them from scratch. Season the potatoes with garlic and red pepper for an interesting and slightly spicy flavor.
Deviled Eggs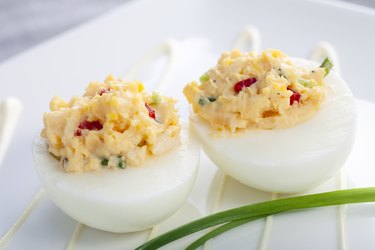 Deviled eggs are a smooth, cold side that goes well with barbecued foods, including brisket. The egg yolks have heavy seasoning that gives them a slightly spicy flavor. Keep your deviled eggs and brisket separate, though. The flavors will not meld well together if you grab a mouthful of both at the same time. To make the eggs, you need to boil them until they are solid. Cut the eggs in half and extract the yolk. Mix the yolk with seasonings until you reach the desired consistency. Place them back into the solid egg whites and top it off with a sprinkle of paprika.
Bread Rolls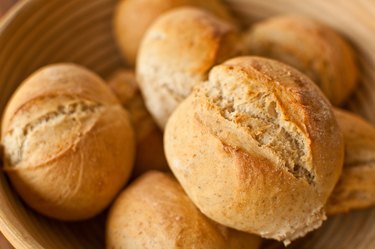 Warm bread adds a much-needed serving of grains to your meal, as well as a pleasant texture. It also absorbs the flavor of the meat well, so you can use it to soak up the juices of the brisket with the bread once you near the end of your meal. Brisket also sits well inside of you bread roll as a sandwich. Place some mashed potatoes inside the bread roll and place your brisket on top.