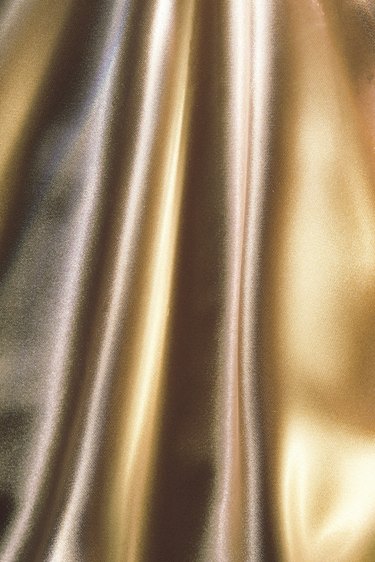 Metallic fabrics are used in costumes, cocktail dresses, sweaters and many other garments. While some fabrics are naturally shiny and metallic in appearance, others use metallic yarns, which typically consist of polyester and aluminum. The metallic yarn sometimes dominates the fabric, creating a fabric with a uniform appearance. Other fabrics weave in a minimal amount of metallic yarn as an accent to the non-metallic yarn.
Lamé
Lamé fabric is woven from synthetic fibers, such as nylon, and metallic fibers. The fabric is reflective and glossy due to the high metallic fiber content. It is available in a variety of colors, including gold, silver, pink and red. Lamé is stretchy and comes in a variety of weights. Tissue, or liquid, lamé is one of the lightest types and drapes easily. Lamé is a delicate fabric, and tissue lamé tears easily. Use this fabric for evening wear, costumes or as an accent.
Wet-Look Spandex
Wet-look spandex is made from nylon and spandex. It is shiny and reflective, creating a metallic appearance without the need for metallic fibers. Wet-look spandex is stretchy, making it suitable for fashions that require a tight fit. It is used in costumes and sportswear. Apparel made from this fabric should be hand-washed in cold water and hung outside to dry.
Foil Fabric
Foil fabric is any fabric that includes a foil layer. The foil is applied to the fabric as a finishing with glue and heat. Foil fabrics are typically made from stretch fabrics, such as spandex and nylon. The foil may cover the entire length of the fabric evenly or create a pattern, such as a dotted or striped pattern. You can foil your own fabric using an adhesive, foil paper and an iron. However, foiling a large piece of fabric, rather than a small design, is difficult to accomplish at home.
Metallic Sweater Knit
Metallic sweater knit fabric consists of nonmetallic yarn made from rayon, wool or other fibers woven with metallic yarn. The resulting yarn has two contrasting tones that are visible. For example, the fabric may consist of matte black and metallic gold. Metallic sweater knit fabrics are usually stretchy and used for scarves, sweaters, cardigans and dresses.