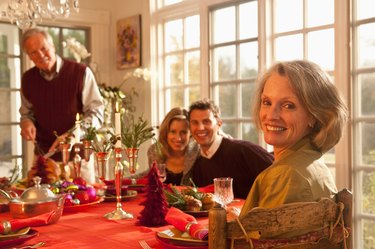 Thanksgiving is a major family holiday where non-family members need to put their best foot forward. If you're going to your boyfriend's house for Thanksgiving, his mother will appreciate a small token of your gratitude at being included. Even if you can't cook well, you can bring something that will help show off your good manners and your boyfriend's good taste.
Edible Gifts
Bring a bottle of quality wine for your boyfriend's mother. She may not drink alcohol, but wine is always a good choice -- she can regift it or cook with it. Spirits are another good choice -- high-quality whiskey or vodka will be useful throughout the holiday entertaining season. You can also bring a box of gourmet chocolates or macaroons or a cheese and bread basket. Since winter is about to begin, give her a gift basket of hot chocolate, hot tea and gourmet coffee for staying warm.
Decorations
Select a bouquet of fresh flowers that match your boyfriend's mother's home decor; this will make a pretty Thanksgiving centerpiece. If she enjoys wine, bring her a set of wine charms. For a frequent entertainer, purchase a set of stylish place card holders. Have them monogrammed for a personalized touch. Gift a new coffee table book with pictures of her favorite city in winter or an international cookbook for experimenting with unfamiliar cuisine.
Dinner Contributions
A contribution to Thanksgiving dinner, no matter how small, is always appreciated. Bake a basket of fresh dinner rolls to add to the table or bake your favorite cake. Write the recipe carefully on attractive stationery and leave it with your boyfriend's mother. If you come from a different culture, bring a traditional side dish to give the dinner an exotic addition. If you have a unique favorite side dish, ask her if you can bring it -- it will make an excellent conversation piece and you'll win points for your culinary skills.
Other Gifts
Find out your boyfriend's mothers favorite scent and bring her a set of fragrant candles or potpourri. If she loves music, find a CD of holiday music by her favorite artist. If she doesn't have much yard space, buy her an herb-growing kit or a window box for growing flowers. Help give her social gatherings a personal touch with a box of cocktail napkins monogrammed with her initials.