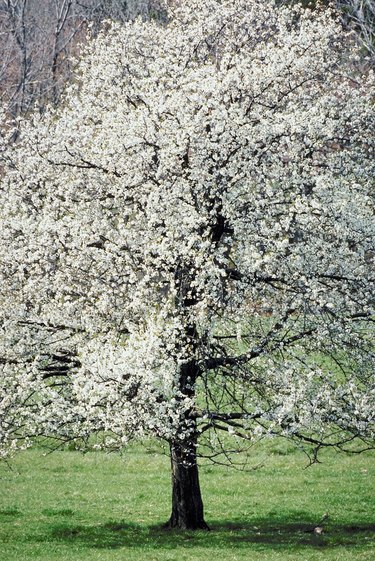 Flowering dogwood is a stunning tree that bursts with gorgeous white, pink or even reddish blooms. It is one of the flowering trees native to Michigan, though it grows well throughout most of the United States, primarily the East. Cultivating plants native to your region has many advantages. For example, it helps protect your ecosystem and makes gardening a lot easier since conditions are already ideal. There are many tips and tricks for planting native dogwood in Michigan as well as other plants to consider for your Michigan property.
Planting Native Dogwood in Michigan
Since dogwood is native to Michigan, you won't have to do much to create good growing conditions for your dogwood tree. The climate, rainfall and amount of sun are usually ideal. Many people like to grow these beautiful trees in their front yard to add curb appeal.
Can dogwood trees grow in full sun? Dogwood trees thrive in full or partial sun, so as long as they can soak up rays for a few hours a day, they will be fine. Morning sun is ideal for helping prevent dogwood blight, which is the most significant disease threat to the species. Dogwoods love very moist soil, so the months of snow and long, rainy days are perfect for them. They prefer acidic soil, so have yours tested to ensure it isn't too basic.
You will want to provide plenty of organic matter and mulch, which can help fight dogwood blight. On top of that, make sure your dogwood tree has plenty of room to grow. These trees can get to about 15 feet tall and at least as wide at their widest point. How fast do dogwood trees grow? Dogwood trees grow relatively slowly; it can take 25 years to grow 20 feet, so you need to be patient.
Other Flowering Trees in Michigan
If you're looking for a tree to grow a little bit faster, you're in luck. Dogwoods aren't your only option if you want the visual splendor of having a flowering tree in Michigan. Two other types of spring-flowering trees in Michigan are the eastern redbud and the American elderberry. The former has thousands of bright pink buds in early spring, while the latter blooms in small white clusters later in the season.
Some of the other best flowering trees for Michigan include the American plum, crabapple, witch hazel and highbush cranberry. In addition to the American elderberry, other white flowering trees in Michigan include the common ninebark, black haw viburnum, American mountain ash and the serviceberry. Before planting any flowering trees, you will want to ensure that they are types that grow well in Michigan. Even among dogwoods, some types native to the South don't do as well in the North.
In addition to stunning flowering trees, there are also many types of flowers native to Michigan that can brighten your yard. Most colorful blooms may be more closely associated with tropical climates, but Michigan has its fair share of options. Some of the most beautiful native Michigan flowers include black-eyed Susans, common milkweeds, sundrops, false sunflowers, cardinal flowers, blue vervains and butterfly weed. You can also spot wildflowers, like the dwarf lake iris, dame's rocket, purple coneflower and the trout lily.
Of course, Michigan's climate is diverse, and not all flowers will grow well in all parts of the Mitten State. When you're working on the landscaping for your home, experts recommend visiting a local nursery where the staff is knowledgeable about what grows well in your immediate area. In addition, many towns and cities have gardening associations or clubs where you can find someone to answer your questions.