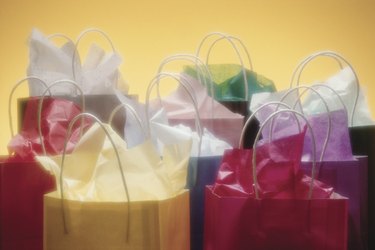 Swag bags historically referred to burglarized content in a sack that was swung haphazardly over-the shoulder after a heist. The modern connotation is much more appealing. It is an adult goodie bag that contains free samples given by sponsors to high-profile guests. The gifts are highly sought after and the recipient is encouraged to display them in a high-stakes marketing ploy. Celebrities and swag bags are synonymous at fancy events and awards presentations, such as the Oscars or Emmy awards.
Contents Count
A swag bag contain gifts ranging from expensive watches to all-day spa reservations. Company or brand logos are often prominently displayed on the items. Many of the contents are one-of-a-kind or next season's preview to create buzz and interest in the marketplace.
Exquisite Packaging
A gift is only as precious as the box it comes in. Each individually item in a swag bag is marvelously wrapped. The display of the gifts is intended to heighten excitement and enhance the overall "wow" factor. Showcasing enhances the appeal.
Invitation Only
Swag bags are presented to guests usually at VIP lounges, by invitation only. Often times they are stacked and pre-packaged for pick-up at the beginning or conclusion of a special occasion. Sometimes guests are encouraged to go table to table and fill their own swag bags, and can choose the color or select from gender specific items.
Taxable Loot
As swag bags have become more popular, the gifts have become more expensive, including all-inclusive getaway vacations. The Internal Revenue Service has taken note. The contents of the swag bags are taxable as luxury gifts, unless, of course, they are re-gifted.