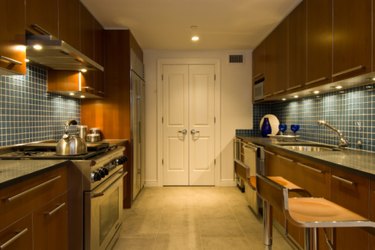 In kitchen design, the cabinetry you choose will be one of the most high-impact choices you make for the space. Because cabinets are also one of the most expensive parts of a new kitchen, you'll want to make the right decision on cabinet color and finish. When working with wood cabinets, the choices for dark or light finish are nearly endless, but you can follow a few tips to decide what's right for you.
Architectural Style
The kitchen cabinet color and design should reflect the feel of the rest of the house. In a Craftsman-style home, for example, you'll typically find dark wood moldings and trim, and in this case, dark wood kitchen cabinets might be the best choice. A beachy, cottage-style home might look better with lighter or white wood cabinets. All of your kitchen decisions should feel like they flowed naturally from the rest of the space.
Kitchen Lighting
If the kitchen gets lots of natural light during the day, you have a little more freedom to choose dark or light kitchen cabinets. However, if you mostly rely on artificial light, like recessed or pendant lighting, and don't have access to many windows or skylights in your kitchen, you may want to choose a lighter wood color so that the entire space doesn't feel too dark. Lighter cabinet doors will bounce more light around, helping your new kitchen feel clean and bright.
Existing Floors and Countertops
If you've already made a flooring or countertop decision, use that to guide your kitchen cabinetry choice. Dark floors or dark countertops should be paired with light or white cabinets and vice versa. In a kitchen with dark floors and dark cabinets, the eye has nowhere to rest and everything tends to blend together. If you're starting fresh in a brand new space, your cabinet color choice will have an impact on your flooring and countertop decisions later.
Paint Considerations
If you can't find a wood color that appeals to you, paint the cabinets in any shade. Even the most high-end houses often boast painted cabinets and can feature cabinetry in literally any shade of the rainbow. Some designer kitchens feature a different color cabinet door on the top and the bottom cabinets, so your choices are not limited to dark or light wood.