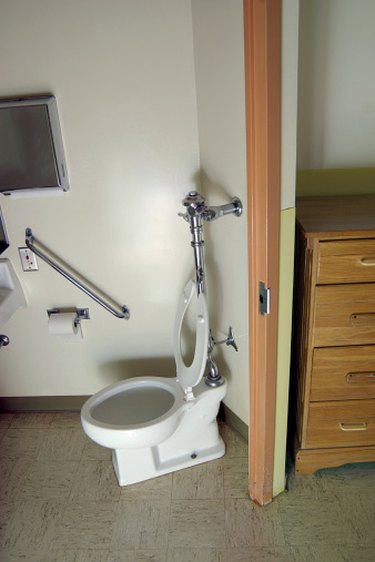 The Americans with Disabilities Act went into effect in 1992 and requires that all new construction and newly-remodled restrooms are in compliance. The Act specifies the requirements for restrooms so that they are accessible for people with disabilities. In 2010, the Department of Justice recognized new standards for accessible design.
Wheelchair Compartments
A standard handicap restroom compartment is designed to be easily accessible by a person in a wheelchair. The minimum size requirement is that it is at least sixty inches wide. The depth is 56 inches for a wall-mounted toilet and 59 inches for a floor-mounted toilet. Out-swinging doors must be located diagonal from the toilet, no more than four inches from the corner.
Standard Walk-in
A standard walk-in compartment is a handicap-accessible restroom for people who are ambulatory. A standard walk-in restroom is required in restrooms with at least six toilets. The stall must be at least 36 inches wide and the depth must be at least 60 inches deep.
Grab Bars
Grab bars are required in all ADA restrooms. They must have a diameter between 1 1/4 and 1 1/2 inches. They must mounted between 33 and 36 inches from the floor, must be at least 40 inches long, and must withstand at least a 250 pound load. The grab bar can be no more than 12 inches from the back wall.
Toilets
In a wheelchair-accessible restroom, toilets must be offset on the back wall from the door so that people in wheelchairs have clearance for their chair. The centerline of the toilet must be at least 18 inches from the nearest side wall.