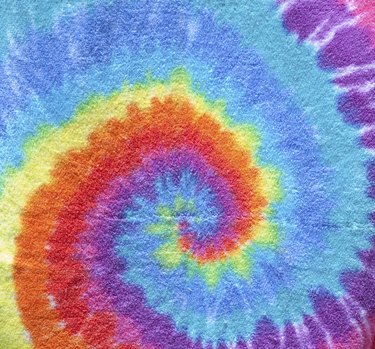 Even with the beautiful fabrics available commercially, sometimes the creative bug bites and you want to decorate that fabric even more. The methods available are nearly endless, depending on the effect you want to create. Some of the embellishments are permanent, such as painting or gathering, while others, like needlework and applique, can be removed and swapped out for a new look.
Frills, Trims and Adornments
Perhaps the best known of all fabric decorating methods is the addition of various trims. You can stitch, glue or fuse lace, rickrack or ribbon anywhere on your project, while ruffles or piping add interest to the edges. Tassels, buttons and beadwork enhance the piece, and they go from the most casual to the most formal, depending on the designs. Iron-on fusible webbing makes these additions simple, while buttons and similar embellishments can easily be removed if the notion strikes.
Gathers, Pleats and Other Folds
Decorate fabric without adding anything extra to it by mastering the techniques of gathering, pleating, ruching and shirring. Generally, gathering involves running lines of stitching to use in drawing up a large piece of fabric to fit a smaller one. This is used to make ruffles, as well as to join full skirts to waistbands. Pleating also lets you join a larger piece to a smaller, but the bigger piece is folded instead of being pulled together. Pleats that have been sewn into place are sometimes called tucks or pintucks. Ruching is a simple way to add texture to a single piece of fabric, using two parallel lines of even gathers to finish a piece, often near the edges. Shirring adds multiple parallel lines of gathering, often done by using elastic thread in the bobbin, while smocking adds embroidery to hold the shirring or pleating in place with a decorative touch.
Stitchery and Needlework
Embroidery and other forms of needlework are flexible options for decorating fabric. Photographs and pattern books provide patterns to outline and fill with traditional embroidery or cross-stitching. Candlewicking is another option, using French knots, usually worked in thread that matches the background to embellish collars, cuffs and plackets or to create patterns on a shirt, pillow or bed cover. Quilting, which involves making patterns of stitches to anchor layers of fabric, can be decorative as well as functional.
Appliques and Transfers
From the French word "appliquer," meaning "put on" or "fastened to," applique involves adhering extra layers of fabric to create a pattern or design. Patchwork patterns, small quilt blocks or pictures with large sections, including those from coloring books and greeting cards, work well for this technique. You can adhere the cutouts with fusible webbing before hand stitching or machine stitching the edges with buttonhole, blanket or satin stitches, or you can cover the raw fabric edges with fabric paint. Reverse applique also adds visual interest to fabric. For this technique, you stitch a design onto multiple layers of fabric and then snip away the layers to reveal the different fabrics underneath. Iron-on transfers make quick decorations, as well, and you can even make your own photographs into transfers with special paper for your inkjet or laser printer.
Paints and Prints
Once reserved for commercial printers, screen printing is now an option for the home crafter. If you don't want to bother with the equipment required, though, you can also hand-paint designs onto fabric, using fabric paints or acrylic paints mixed with fabric-painting medium, or you can use the same paints with rubber stamps. Permanent markers and rubbing alcohol let you create a tie-dyed effect without messy dyes. For an older, more traditional look, try batik, in which wax is applied to fabric before it is dyed. The wax resists the dyes, which allows you to create pictures and patterns on the fabric before you remove the wax.