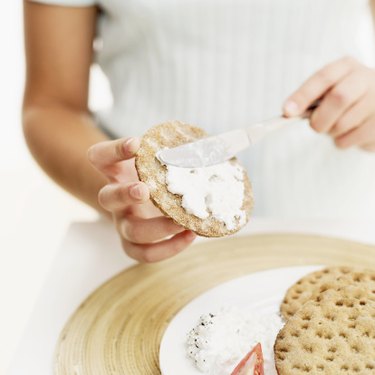 Dip is one of those things you simply can't do without at a party. Crackers and dip are a delicious, easily prepared snack, but you want to make sure you get the right crackers. A light, buttery cracker might sound great, but may not be durable enough for a heavy dip. Whether you're dunking in cheese, bean, spinach or any other delicious dip, try out a variety of cracker brands and choose your favorite.
Ritz
If you're looking for a light, buttery cracker to dunk into your favorite dip, Ritz crackers are the perfect size and shape. One serving size of regular Ritz crackers (16 g.) has 60 calories and 4.5 grams of fat. If you're worried about your waistline, there's also come a reduced fat variety, which has 70 calories in one serving (15 g.) and 2 grams of fat. Ritz is also available in Honey Butter, Roasted Vegetable and Whole Wheat. Because these crackers are so light and crispy, they may not be best for heavy dips.
Wheat Thins
Wheat Thins are a thinner cracker with a bigger crunch. Their small square size makes them ideal for sandwiching your favorite dip or spread. Wheat thins are a healthy alternative to other crackers because they're toasted, not fried. They also have 11 grams of whole grain per serving (31 g. or 16 crackers). Regular Wheat Thins have 140 calories and 5 grams of fat per serving, and the reduced fat variety has 3.5 grams of fat. If you want a flavorful cracker for dipping, other Wheat Thins flavors are Sundried Tomato and Basil, Ranch, and Multigrain.
Triscuit
If it's a very durable, crunchy cracker you seek, Triscuit may be the winner. They come in squares, like Wheat Thins, but are larger, so they hold more dip and they're more durable. If you have a thick dip, these are your best bet. One serving size (28 g.) has 120 calories and 4.5 grams of fat. Triscuit crackers also come in reduced fat and eight other flavors, including Rosemary and Olive Oil, Cracked Pepper and Olive Oil, and Fire Roasted Tomato.
Kashi TLC Crackers- Original 7 Grain
Kashi makes crackers that are natural and suit a healthy lifestyle. Their Original 7 Grain TLC Crackers are minimally processed and packed with seven whole grains. Their durability and crunch makes them an ideal cracker for dunking in your favorite dip, and you can feel good while doing it. One serving size (30 g. or 15 crackers) has 120 calories and 3.5 grams of fat. Kashi also makes its TLC crackers in flavors like Country Cheddar, Fire Roasted Veggie and Honey Sesame.