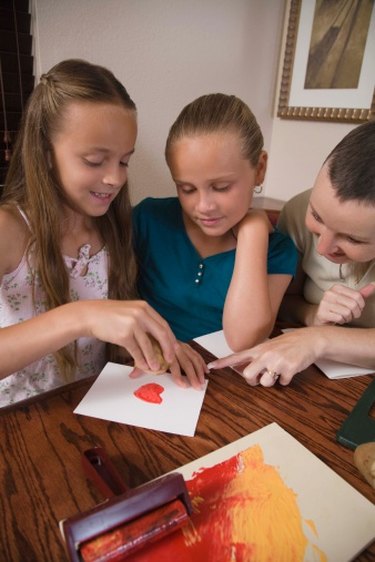 Paper clips, binder clips and hole-punch paper fasteners are office supply staples, useful for keeping files organized, securing loose pages and binding papers together. While standard boxes of paper clips and fasteners come in an array of colors, shapes and sizes, they the lack creativity, personality and charm of DIY clips and fasteners. Learn a few tips for making paper fasteners out of ordinary objects and items to add a touch of playfulness and whimsy to your home or office workspace.
Wire Fasteners
Standard wire paper clips are the most common type of paper fastener, but also the most ordinary. Instead of settling for a box of ready-made paper clips, make your own unique, personalized fasteners with thin, sturdy wire and wire cutters. Starting with a straight, vertical piece of wire, bend the wire upward, approximately 1 to 2 inches from one end, forming a deep "U" shape, using cutters to bend and shape the wire. Continue shaping the wire from there to create a heart, spiral, star, initial or other quirky shape. When finished, bend the custom shape you formed downward so it rests directly in front of the "U" shape, forming a clip. Slip the clip over a small stack of papers so it fits snugly between the "U" and the custom shape. Pull the "U" and custom shape apart to accommodate large stacks of paper, or squeeze them close together to keep thin stacks of paper secure.
Clothespins
Small, plastic and wooden clothespins work like binder clips for keeping sheets of paper pinned together. The smooth, flat surface of a clothespin is also easy to affix small embellishments to. Use super glue, craft glue or a hot glue gun to bond rhinestones, plastic charms, felt cutouts, beads or other small craft objects along the length of the clothespin for an instant, blinged-out paper fastener. Or, affix a small charm or object to one side of the clothespin at the top end for a cute and easy DIY bookmark. For a kid-friendly paper fastener craft project, supply children with small, flat, wooden clothespins, markers, stickers and glitter-glue pens. Encourage kids to embellish clothespins with different colors, patterns and designs, using the craft supplies provided.
Thread
For sheets of paper that will be permanently fastened together, take inspiration from traditional country crafts and use a thick needle and thread to sew pages together. Create quilt stitches down the right side of a paper stack for a book-like bind, or stitch pages together in the upper left corner with thick, colorful thread. Bind pages together with stitches that form shapes, letters or even words to keep pages organized in a cute and playful way. In addition to permanently securing pages together, thread stitches are flatter than standard clips and fasteners and will keep file folders from bulging or bending where the papers they contain are fastened together.
Bobby Pins
While bobby pins' primary use is to keep hair in place, these inexpensive, versatile beauty accessories also double as thin-but-sturdy paper fasteners. Glue tiny rhinestones, beads, pearls or crystals along one side of the pin, or attach a larger object such as a plastic charm or foam shape to one end for an easy DIY paper fastener. Alternatively, tightly wind a piece of yarn or thread around the thin arms of the pin, starting at one end of the pin and ending at the other. Secure with a drop of glue. You now have a soft, colorful paper fastener that holds pages together without ripping or tearing them.