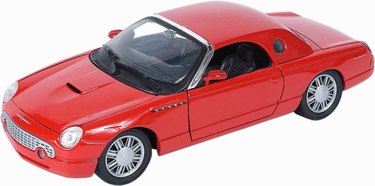 Polycarbonate is a type of plastic that is commonly used in model cars and for other hobbies. It presents the same problem as painting most plastic: the surface is so smooth that paint has trouble binding to it. However, there are plenty of products that have been designed to be used on plastic and several that are specifically geared toward polycarbonate.
Krylon Fusion
Krylon Fusion paint is formulated to work on most plastics. It is important to know that it does not specifically mention polycarbonate, so it is important to spot test before starting a project. In addition to offering several types of finishes, Krylon offers a wide variety of colors, including metallic colors. There is no need to prime or sand, and Krylon Fusion dries quickly and will cure in seven days.
Rust-Oleum
Rust-Oleum has more than 20 products available to be used on plastics, including several types of primer and clear coats for a glossy finish. Rust-Oleum also does not explicitly state that these products will work on polycarbonate, so be sure to do a test patch to be sure that the project can be completed. Rust-Oleum offers paints that allow a color-shifting finish to be achieved, along with paints providing reflectivity at night (for things like mailboxes and bicycle helmets), which gives them a bit more flexibility than Krylon. They also have a Universal product that is formulated to work on just about anything and that can, consequently, be used on a project involving multiple surface types that need to match.
Tamiya
Tamiya has designed a line of paints to be used on transparent RC car bodies. They are fuel- and oil-resistant for use with gasoline models. These paints are not for use on any other kinds of plastics. There are about 30 colors available in the spray cans. There are also two shades of paint marker available for use in creating minor details, such as headlights or mirrors.
Pactra Paint
Pactra Paint is put out by Testor, maker of paints for model painting. It is formulated specifically for Lexan, which is a polycarbonate brand. Pactra has several categories available: car acrylics, aircraft acrylics and car lacquers. Each category has 30 or more colors available, and while there is some crossover between them, each category contains unique colors. Pactra has the most color variety of all the paints listed, and Pactra even has some masking tapes specifically designed to work with the polycarbonate bodies so that more complicated and detailed finishes can be achieved.