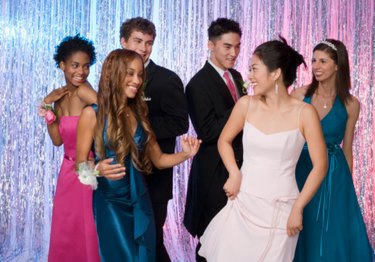 High schools all across the country hold homecoming dances, usually after a homecoming game held in the fall. To keep these school-sponsored events fun yet safe for the students, the schools set certain rules for the dance. While these rules vary from school to school, they usually incorporate the school's everyday rules and cover the same general topics.
Dress Code
Homecoming dances can be formal or informal events. The school sets a dress code and will only allow students who follow it into the dance. Many learning institutions don't allow students to come to school in suggestive clothing. This rule carries over to dances, which mean boys and girls can't show a lot of skin. A formal dress code requires girls to wear a formal or semi-formal dress or pant suit. Boys must don a suit or shirt and tie along with dress pants.
An informal dress code varies. The Denham Springs Freshman High School, for example, requires boys to wear slacks and a polo or dress shirt and girls to wear dress pants with a blouse or a two piece pant suit. Other schools may allow jeans and sundresses.
Eligibility
Not all students can attend the homecoming dance. Some schools only allow upper classmen to attend while others invite all high school students. Age also factors into the rules. Many times students must not be absent on the day of or the day before the dance — if the dance falls on a Saturday. A student's academic or discipline record may also affect his ability to go to the homecoming dance. For example, a student with failing grades or under suspension may be banned from the dance.
Dates
The schools also require students' dates to meet certain requirements before attending the homecoming dance. Most schools do not allow high school students to bring middle school students as dates or guests older than 20 years of age. Azusa High School makes students give their dates personal information on a permission slip signed by their parents. Often dates that attend other schools must show identification either when purchasing the tickets or entering the dance. Other schools ask an enrolled student to vouch for a guest from another school.
Behavior
Schools expect students to behave just as they would during a school day at these dances. This means no consumption of alcoholic beverages, smoking tobacco or taking controlled substances. Students have to respect and obey the chaperones' requests. They also must dance appropriately which means no club dancing or grinding. Often, if a student does not follow the rules, he will be kicked out of the dance and his parents called to pick him up. Many times if a student leaves the dance before it is over, he will not be allowed back in.