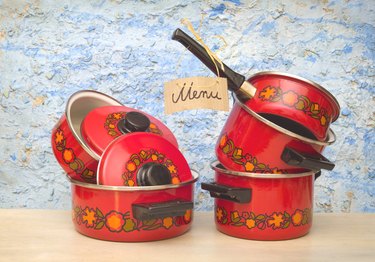 The 1970s rang in an era of convenience, with Americans celebrating snacks that were simple to prepare and easy to eat on the go. Whether you're nostalgic for the tastes of your childhood or want to indulge in some authentic snacks for a '70s theme party, you may find that many popular '70s snack foods continue to hold up today.
Cheese Please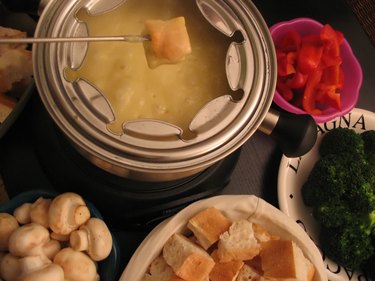 Described as a "signature food dish" of the 1970s, cheese fondue was a staple snack at many cocktail and dinner parties. The dish was simple enough: a pot of melted cheese, such as cheddar or swiss, sometimes mixed with wine. Guests used skewers or toothpicks to dip cubes of bread, or sometimes a piece of ham or a cherry tomato, into the warm cheese. Another classic cheese snack was cubes of cheddar cheese speared with chunks of pineapple onto half of a tinfoil-covered orange.
Candy Crush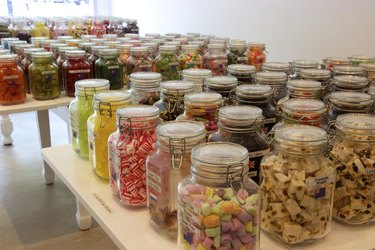 The '70s brought the advent of many candies that are just as tasty today as they were then. Both Pop Rocks and Starburst Fruit Chews were introduced to the American public in 1976. The year 1977 brought Twix Cookie Bars, while Reese's Pieces and Whatchamacallits came along in 1978. Ben & Jerry's Homemade Ice Cream, which featured unusually large chunks of candy, fruits and nuts, started to appear on the scene in 1978, with wider distribution in 1979. Brach's Chocolate Stars and Brach's Bridge Mix, a combination of chocolate-covered fruits and nuts, were especially popular in 1970.
Finger Foods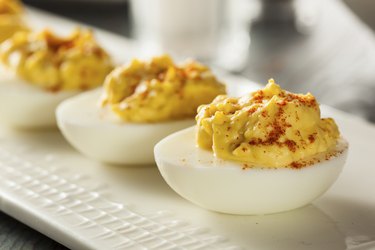 Clever, bite-sized finger foods were popular in the '70s, an era in which buffet tables reigned supreme. A 1970 issue of Gourmet includes celery with anchovy stuffing, radish pinwheel sandwiches and Westphalian ham rolls in its list of "delectable finger foods." Deviled eggs or a hollowed-out melon with round scoops of melon inside and toothpicks would have been common sights. In a 2004 article by The Guardian, Chef Antony Worrall Thompson includes scotch eggs and cheese wrapped in bacon and the "always popular" grilled sausages glazed with butter and Dijon mustard as some of his favorite retro party foods.
Chips and Dips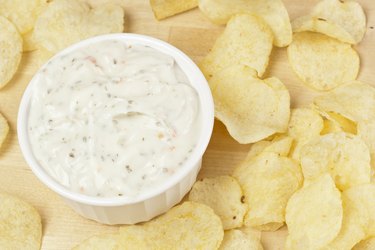 By the late 1970s, Frito-Lay chip sales exceeded the $1 billion dollar mark, according to Funding Universe, an organization that matches small businesses with active lenders. Doritos, the flavored tortilla chips which were introduced in 1968, were a "tremendous success" during the '70s. Bon Appetit Magazine, however, describes Pringles potato chips, originally marketed as Pringle's Newfangled Potato Chips, as the "chip for the '70s." Dips included French onion dip, often made with Lipton onion soup, vegetable dips featuring avocados, and creamy seafood dips made with shrimp or clams. Many dip names were prefixed with "California."