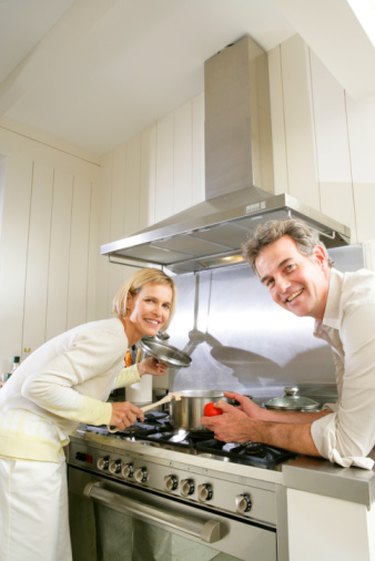 Cuisinart introduced its Multiclad stainless cookware line in 2001. The Multiclad Pro and the Multiclad Unlimited are similar in price and features, but have certain key differences. Both are mid-priced products available at department stores, kitchen specialty shops and online retailers.
Different Cookware Choices
For more choices of cookware, pick the Pro line with two sizes of casseroles, a double boiler, a steamer and a roaster. Pro offers four, three, two, one and half-quart saucepans. Two-quart or four-quart saucepans are available with the Unlimited. If you need more than just a six-quart stockpot, the Pro has 12, eight and six-quart stockpots, while the Unlimited has only the six-quart. The Pro line features two sets: a 12 and a seven-piece set. The Unlimited has a 12-piece set.
Different Materials
The Unlimited line features an ArmorGuard anodized exterior, while the Pro cookware's exterior is made of brushed stainless steel. Anodization creates a protective layer on aluminum that prevents scratching, denting and corrosion. Food resists sticking, making cleanup easier. Brushed stainless steel resists rust and corrosion. Unlimited cookware covers are safe to 500 degrees Fahrenheit. The Pro's covers are safe to 550 degrees.
Similarities
The Unlimited and the Pro line are dishwasher safe. You can use both in the broiler and freezer. Multiclad products carry a lifetime warranty from Cuisinart. Each line comes equipped with a Cool Grip handle, tight-fitting stainless steel covers and drip-free pouring rims. The Unlimited and the Pro cookware have stainless steel interiors. Prices are comparable for both lines. For example, the four-quart saucepans retail at $69.95 in both product lines. Multiclad cookware boasts 18/10 stainless steel. 18/10 steel contains 18 percent chromium and 10 percent nickel. Higher numbers represent more resistance to corrosion.
Considerations
Consider what types of food you cook. At first glance, cookware sets appear to be a good deal, but you may end up with extra pieces that you rarely use. Buying individual pieces may cost less in the long run. Smooth-top ranges require flat-bottomed pans. For induction cook tops, look for magnetic stainless steel. Try out the cookware in person, rather than buying online. Check the weight of the cookware, and the comfort of the handle.