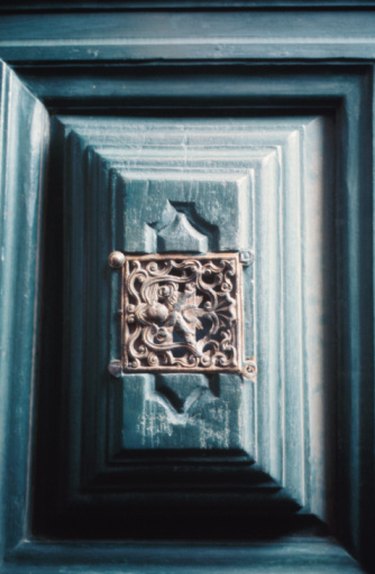 Fresh out of World War I, Americans during the Roaring Twenties relished the nation's return to prosperity. Women enjoyed feminist victories in the workforce and at voting polls, flaunting newfound independence, bobbed haircuts, short skirts, heavy make-up and cigarettes. Jazz delighted party-goers at dance halls and speakeasies all over America. Prohibition created a surge of violent gangsters who sought control over bootlegging. It was a time of unprecedented prosperity, jubilance, secrecy and criminality -- all of which revealed themselves in the 1920s speakeasy.
Secret Entrance
Since speakeasies provided illegal liquor, entrance was strictly for people in-the-know. The style of your speakeasy nightclub should follow suit, remaining absent of signage or an obvious point of entrance beyond an address. Contrive an unglamorous entrance that requires passing through a garage, side door or freight elevator – and a peephole at the door is an essential touch, with a menacing bouncer peering out from the other side. Guests should be required to use a special knock or password to gain entry. You can provide instructions on a "secret" website or invitations – or have someone in character stealthily make his way down the line for entry, filling people in one by one in a hush-hush tone. Immediately upon entering, guests should encounter a gun check area for turning over any contraband.
Interior Décor
The inside of your speakeasy should be dimly lit, and its décor should be accentuated with lavish, extravagant touches, such as velvet, crystal, flowers, over-sized vases and art deco furniture. The glamour and ostentation should serve as a stark contrast from the club's gritty exterior. Up front, there should be a small dance floor before a small stage for a live band to play jazz tunes of the era, from the likes of Duke Ellington and Louis Armstrong. On the side of the stage there should also be a piano to have the occasional jazz singer sit atop while entertaining. On one wall, you may also play silent films from the era.
Speakeasy Bar
A 1920s speakeasy bar is incomplete without a stock of "bathtub gin," or at least an enormous metal tub to evoke the imagery of bootleg liquor. You may fill it with your own special blend of moonshine, or just keep it full of ice and stock the liquor supply within. Have the bartender be properly clad in uniform – black pants, red or black vest and a bow tie – and serve 1920s cocktails like the Mary Pickford or French 75.
Favors
Encourage guests to enjoy themselves in character by providing favors for use while inside -- such as fedora hats, spats, suspenders, bow ties, flapper wigs, over-sized fans, feathered headbands, feather boas, long pearl necklaces, cloche hats and 3/4-length gloves.