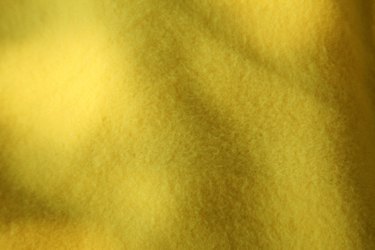 Traditional curtain fabrics tend to be woven rather than knit, and smooth or crisp rather than fuzzy or soft. Fleece is a soft, fuzzy knitted fabric, and while it's not normally used for curtains, there's no reason that you can't make curtains from fleece. Choose your fabric carefully and embrace the nontraditional aspects of fleece curtains -- they just might turn out to be your favorite window treatments ever.
Benefits
While fleece is not exactly a luxurious, sophisticated fabric, it does have benefits. For one, it is readily available in many colors and prints, from bright solids to animal prints to children's cartoon characters and college sports teams. If your objective is a themed room, chances are there is a fleece fabric that goes with it perfectly. Fleece is also relatively inexpensive, easy to find, easy to cut and sew, machine washable, and has insulating properties that help keep winter's cold air out of your home. Fleece does not need to be hemmed, so making curtains from this fabric is easy, quick and simple.
Drawbacks
Because fleece is soft and has a generous nap, it tends to collect dust, pet hair and anything else that floats across the room. Fleece has a very casual look and is probably best kept to curtains in children's rooms or playrooms. Fleece is often very colorful, and if you leave your fleece curtains unlined, you may not like their look from outside the window.
Dressing Up Fleece Curtains
If you'd like to make your fleece curtains look a little more chic, fun or interesting, consider embellishing them. Sew ribbon stripes in fun colors across the tops and bottoms of the curtains, or cut fringe into the bottom for some unexpected whimsy. Other ideas to try are cutting ties into the tops of the curtains and tying them directly onto the rod, sewing large, colorful buttons on for trim and adding ruffles or pom-pom trim across the tops and bottoms.
Other Considerations
If your colorful fleece curtains look less than desirable from the street, line them with simple white muslin for a subtler look that is not noticeable to passersby. Line them with blackout liner if they let in more light than you'd like. Because fleece is somewhat thick and bulky, your curtains may bunch up on the rod and not open easily. Remedy this by hanging them with clip rings, which simply clip to your fabric and slide easily along the curtain rod. In fact, if the size is right, you can simply clip rings to a fleece blanket and hang it over your window, no cutting or sewing required.