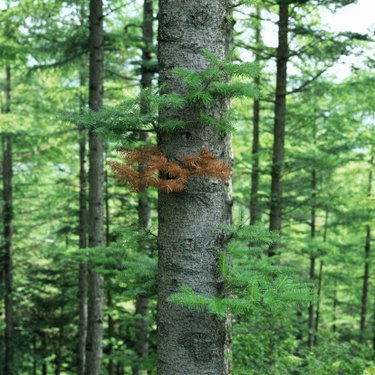 Pine trees, members of the genus Pinus, are stately evergreens, retaining their needles, or leaves, all year long. There are more than 100 species of pine found around the world, and though they're common to cold climates, many species of pine flourish in tropical climates. There's no winter in the tropics, so pines in these locales aren't subject to freezing temperatures and dramatic changes in moisture or light.
Tropical Pine Forest Locations
Located in the western Pacific Ocean, Luzon is the largest island in the Philippines, and it's famous for its tropical pine forest. These trees are located in mountainous regions above 3,000 feet. Hispaniolan pine forests are found in Haiti and the Dominican Republic. Belizian pine forests are located in Belize. The Himalayan subtropical pine forests of India, Bhutan, Nepal and Pakistan are additional locations where pine trees grow in tropical climates.
Species of Tropical Pine Trees
P. longifolia flourishes in India, and P. insularis in the Philippines. P. occidentalis, P. tropicalis and P. cubensis grow in the West Indies, P. strobus thrives in Central America, and P. merkusii is found in Burma, Thailand and Cambodia.
Tropical Pine Trees in America
Native to the Mediterranean, the Maritime pine (Pinus pinaster) was introduced to the Hawaii as a timber crop. The Maritime pine tree grows on all of the Hawaiian islands and is found in abundance on the island of Maui. This tree grows at low altitudes, from sea level to 2000 feet. Maritime pine trees are also found in North and South Carolina and Florida. This hardy pine tree, resistant to salt spray, was introduced to stabilize the sand dunes of the outer banks and coastline.
Most Commonly Known Tropical Pines
Norfolk pine (Araucaria heterophylla) is one of the best-known tropical pine trees. It can be found growing in the wild in tropical climates around the world. Widely used as a Christmas tree, the Norfolk pine is ideal for container planting and is often kept as an indoor house plant. Sand pine (Pinus clausa,) Slash pine (Pinus elliottii Engelm.,) Spruce pine (Pinus glabra Walt.) and Pond pine (Pinus serotina Michx.) are found in Florida, Cuba and throughout the Caribbean.