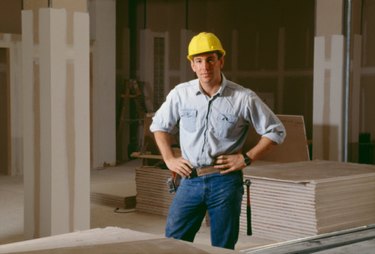 Drywall is a board that contains multiple layers of either fiberboard, paper or felt, which is bonded to a hardened plaster. This board is commonly used in the construction industry along with drywall compound for building walls, and can be found at your typical hardware store. However, the material has plenty of additional uses. With some creativity, drywall materials can be employed in a variety of useful and decorative crafts. When purchasing a single sheet of drywall, the material can be relatively inexpensive.
Art Carving
Use drywall, popsicle sticks, water, hairspray and paint to create a beautiful art carving. The carving can be created simply by dampening the drywall with a spray water bottle until you can peel away the top layer of paper. When the paper is removed, carve a design into the drywall using a popsicle stick. Then paint the carving and seal it by spraying it with hairspray. This will make for a one-of-a-kind piece of art with a solid backing.
Textured Photo Frames
Recycle old picture frames into new ones using drywall compound. Cover the old frame with drywall compound, using a trowel. Create textured effects with the trowel to make your frame stand out. After letting the compound dry overnight, use spray paint to add a pop of color to the frame.
Cyclorama Wall
For the more advanced crafter, consider making a cyclorama wall, especially if you enjoy photography. A cyclorama wall curves between the wall and the floor to create a flowing look. These walls are often built in studios to hide the 90 degree angle between the floor and wall and create a smooth transition in photos. To craft a cyclorama wall, build a typical wall using drywall. Then, cut a series of curved 2-foot arcs out of plywood to sit between the floor and wall. This will create the flow. Nail the curves to the wall, cover them with masonite, then plaster and paint the curves. This project should only be attempted by people with construction experience.
Paint or Decoupage Canvas
Instead of throwing away drywall scraps, use the drywall as a canvas for a painting or decoupage, rather than purchasing a canvas at a store. Use a water and glue mixture to add your favorite paper images to the drywall for a decoupage, or pick up some arts and crafts paints at a crafts store and use your creativity to make a colorful painting to display in your home.