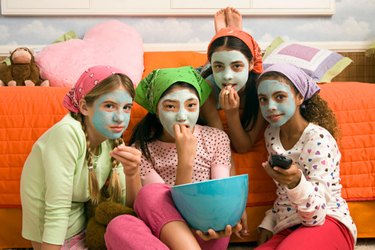 With proper planning, a slumber party can be more than just another sleepover. Hold an exciting party by playing fun games, making special food and decorating your house in the girls' favorite theme. Combine traditional ideas with activities the girls love to create a night your guests will always remember.
Tips
Send out invitations two to three weeks before the party. At the beginning of the party, ask everyone to bring sleeping bags so they can sleep on the floor, unless you have enough couches and beds for everyone. This will prevent arguments between guests. Provide an alternative source of entertainment for younger siblings if they are going to cause a disturbance. They could go out with a parent or invite a friend over to stay the night.
Decorations
Keep one part of the house as the designated party area. Rearrange the furniture accordingly, and scatter the floor with pillows and blankets to make it more comfortable. Hang streamers and balloons around the room and in the entrance, so the girls immediately feel like they are entering a party. Personalize the party with a banner, special theme and the favorite colors of the host. Set up a music system with songs the guests can dance to and sing along with. Hang glow-in-the-dark stars to create a great atmosphere for the night.
Food
In the evening, serve fun snacks such as cut-out cookies, drinks with silly straws and popcorn with a range of toppings, such as cinnamon, cheese, salt and chocolate. For dinner, guests might enjoy bagel halves decorated as funny faces. Use chives or salmon strips for hair, olives for eyes, red peppers or halved cherry tomatoes for the mouth and baby carrots for the nose. Possibilities for breakfast in the morning include waffles or pancakes in shapes, accompanied by fruit, syrup, cream and nuts.
Games
You can choose from countless options for games, according to the ages and interests of the girls. For the beginning of the party, try some active games like a sleeping bag obstacle course, pillow fights and an outdoor scavenger hunt. Craft ideas, such as making jewelry or decorating hats and t-shirts, will give the guests something to remember the party. To relax in the evening, girls can give each other makeovers, have a contest for the best pajamas or watch a movie.