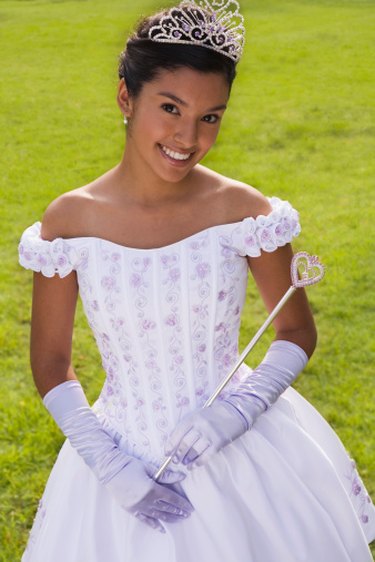 Similar to a Sweet 16 party, the quinceañera is a custom in Hispanic cultures that celebrates a girl maturing into a woman on her 15th birthday. While many rituals take place during the celebration, the candle-lighting ceremony wasn't originally part of the quinceañera. However, over the years, the ceremony–an event borrowed from the Sweet 16 party–has become popular and puts a modern spin on a time-honored tradition.
Candle Lighters
To perform the candle-lighting ceremony, you need one candle lighter for each candle. Traditionally, the birthday girl has a court that consists of seven girls and seven boys. So, it's common for them each to light one candle and the birthday girl's parents to light either the first or last candle. Alternatively, the birthday girl chooses 15 people or family members with whom she has a close relationship to light the candles.
Music
As each candle lighter goes to light a candle, a song is played, chosen by the girl of honor. The song should represent that person or a memorable moment shared by the birthday girl and the candle lighter. It should provide the other guests with insight into the candle lighter's personality and character, as well as showcase the relationship between the person and the girl of honor.
Speeches
While speeches aren't necessary during the candle-lighting ceremony, allowing each candle lighter to say something about the birthday girl before she lights the candle adds a personal touch to the tradition. Alternatively, the girl of honor can make a short comment and thank each candle holder or the two rituals can be combined, allowing both people to exchange compliments.
Blowing Out the Candles
Before blowing out the candles, the girl of honor shows appreciation to her guests with a short speech to thank them for attending her celebration. Then she blows all of the candles out. Alternatively, each candle lighter may blow out the candle she lit and present the birthday girl with a small gift. If you choose the alternative version, make sure each person gives a small symbolic gift, so the birthday girl doesn't have trouble carrying them while she exits the stage or presentation area.