To welcome a new neighbor, celebrate a birthday, raise funds for a cause or just catch up with busy friends, plan a ladies luncheon. This old-fashioned ritual remains a social mainstay because it adapts to so many occasions in the lives of women. Make your luncheon memorable with party favors that celebrate and extend the special companionship of a ladies lunch.
Film at 11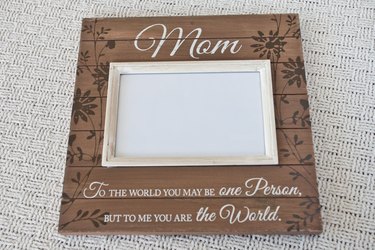 Even though guests can probably take pictures of your lunch party with their phones, a single photo including all the guests still makes a treasured party favor. Choose tiny picture frames that guests can take home, and you can print them and send a final photo within a few days. Alternatively, make a video of the party, edit it and send it to each guest on a thumb-drive that lets them watch the party again. Ask a techy teen or other family member to help edit your footage, if you need assistance.
Culinary Treats
End the ladies lunch with an edible party favor. Make yours special by preparing a treat that complements the party theme or menu. A small jar of a new seasoning mix, like the spices you used in your lunch's Moroccan chopped salad, lets guests experiment with new flavors. A homemade marmalade, an unusual local vegetable or fruit, or even a bottle of the same wine served at lunch extends the party feeling into your guests' own kitchens. If your guests are going home to prepare family dinner, a box of cookies frosted in party colors or other dessert further extends your hospitality to those at home.
Sharing Secret Ingredients
As a favor, give the guests a recipe for one of the dishes served at the party and an accessory to help prepare it. Share the party's signature cocktail or "mocktail," attaching the recipe to the shaker, strainer or special ingredient that helps make it a hit. Laminate your recipe to a decorative refrigerator magnet as an ongoing reminder of a happy occasion. If your guests are gardeners as well as cooks, attach a packet of seeds for the herb that made the recipe distinctive.
Taking the Party Home
A gift from your table to your guests' tables makes lunch a very special occasion. Give each guest a set of coasters that matches or resembles the texture of the woven-grass place mats that adorned the lunch table. For an old-fashioned table accessory, scour antique and second-hand shops for tiny glass salt cellars or bud vases to present to the guests. During the holidays, purchase extra holiday tree or other decorative ornaments as party favors. Use some in your centerpiece and send the others home.
A Gift That Grows
While your guests may not all have a green thumb, a low-maintenance house plant in a decorative pot makes a good favor for both house and apartment dwellers. Link your favor to the meal by giving guests an herb, such as rosemary or thyme, that appeared on the menu. Choose a foliage plant or succulent in the same colors as your lunch party theme. If you know that your guests may have difficulty housing a live plant, explore artificial alternatives at the craft store or florist. A small artificial box-tree topiary serves as a refreshing touch of maintenance-free greenery. Look at small seasonal wreaths and swags you can personalize with a ribbon in one of your party colors.
Favors for a Cause
Favors for a benefit or fund-raising luncheon can be directly related to the issue that is bringing your guests together for the luncheon. Send nursery-school moms home with a tiny personal favor and a storybook that can be read to children they left with a babysitter. Choose a scarf, umbrella or an apron in your cause's campaign color for each guest. Present the guests with logo T-shirts, tote bags or other official fund-raisers from the cause. Make a donation in the name of each guest to the cause you all support, for a gift that gets to the heart of your gathering.