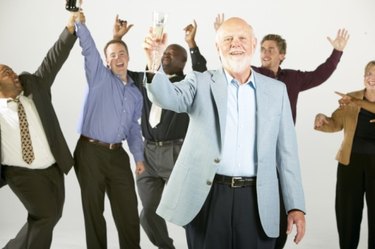 If you're celebrating a milestone event for your boss, such as his 50th birthday or a retirement farewell, a roast can be a good choice. It's a funny way to get the office together to poke fun at your superior while revealing some of his common, funny faults -- such as drinking out of a coffee mug with a broken handle or rattling off the same saying every day. If you've seen roasts before but don't know how to execute one with success, consider the do's and don'ts to host an event that everyone will enjoy.
Event Basics
Consider sense of humor and budget. If your boss would be embarrassed being in the spotlight, or if the jokes you and the other employees throw around might cause awkward situations, a roast many not be appropriate. Although it's not a traditional format for roasts, you could opt to put key employees on the spotlight and roast them in honor of your boss. It may be more fun to have everyone laugh at the runner who is always locking his keys in the car or the secretary who forgets names easily. Another factor to consider is your company budget. If you don't have money available to support the event venue, food and drinks and even a present for the boss, you and the staff may need to pool your resources.
Themes
Once you have a green light on holding the roast and your location and event details are all set, the fun can begin. Create a theme. You could dedicate your roast to one of those sayings your boss is tied to - such as "Work smarter, not harder," or "When you're late, I'm late." Post sayings all around the room, on invitations, and infuse it in the roast topics. Use plays on words from your company motto. If you're at a plumbing company, the theme "Watching his life go down the drain" could be a funny way to highlight different phases of fun over the years. Get guests in the mood by asking them to dress up to a costume-themed party such as from an era that was important to your boss.
Roast Topics
The point of a roast is to make guests and the guest of honor laugh, remember good times in the past and enjoy one last hurrah before sending off your boss. Ask the special guest speakers to choose topics that will relate to your boss but that most people will find entertaining, such as bad habits your boss has, embarrassing business moments, times when everyone barely finished a project and the funny stories around that time. Jokes can also be centered around the good things to come, such as how sales will rise now that the boss is gone or how everyone will be excited to come to work.
Things To Avoid
It's imperative that you and your roasters know where the line is so that it's not crossed. You don't want to discuss personal issues that will humiliate your boss or make guests feel uncomfortable. Subjects such as alcohol habits, child support, affairs or sensitive personal issues are off limits. Keep the topics innocently fun so that no one is compromised or embarrassed.