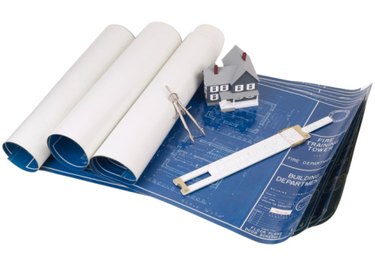 A traditional ranch style home translates to mean a single level of living space. A raised ranch is one type of bi-level home design. The living area is actually raised off the ground even though the entryway is at ground level. The true test of a raised ranch style house is entering the front door and then having to climb a set of stairs to access the living area of the house.
History
The introduction of the G.I. Bill resulted in an explosion of home building after World War II. Home builders, reacting to the demands of buyers, searched for a way to create more living space while keeping construction costs contained. The result was a split-level design that literally took the ranch style home and split it into levels. Split-level designs eventually morphed into bi-level designs, the difference in placement of the staircases. The raised ranch house was designed to accommodate building lots that backed up to hills that prevented subterranean construction.
Interior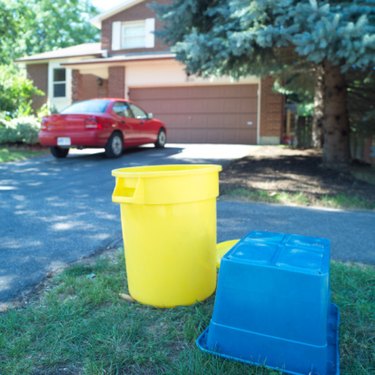 The entryway of a raised ranch house contains a full staircase leading up to the second level of the home. This second level houses the main living area including kitchen, living room, bedrooms and baths. The lower level of the house, or ground level, accommodates the garage and a basement area. The basement area is often partially submerged, or built underground, depending on the slope of the lot. This basement area is often turned into a recreation room or over-sized den, depending on the needs of the family.
Exterior
The exterior look of a raised ranch has been likened to an upside-down Colonial. The most obvious difference is the placement of windows. Since the living area is raised, the larger picture windows are on the second level, like living room or dining room windows. The lower level of the house is often a large expanse of material like brick or siding, and may be an unpleasant look to some. Simple cosmetic changes, for example shutters and landscaping, can camouflage the look. More dramatic changes can be made by replacing standard doors with more decorative versions and replacing smaller windows with larger-sized ones.
Decorating Tips
Raised ranch houses date themselves since it is no longer a common style in new construction. For those who want to modernize the look of a raised ranch, it can be accomplished both inside and out. The typical raised ranch house has three bedrooms and two baths, and lacks the space for a large master suite. Relocate one of the bedrooms to the lower level and utilize the space to expand the master bedroom. To change the exterior look to a more traditional Colonial style, rearrange windows so the larger window is on the lower level. The addition of a front porch will also update the look.