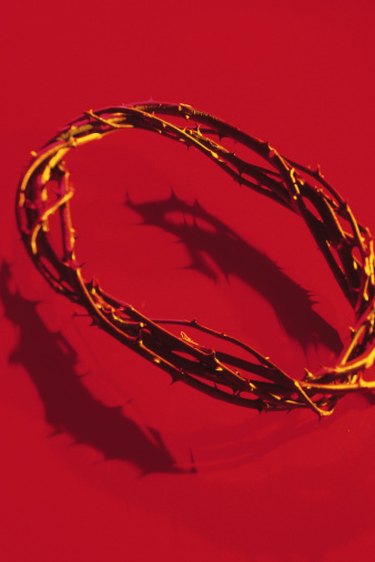 When Jesus was crucified, his tormentors made him wear a crown made of thorns. These thorns were poisonous. Teach your Sunday School class about the crucifixion, then choose from a variety of Sunday School crafts involving the Crown of Thorns. Make them from different materials, with toothpicks to represent the thorns.
Dough Crown of Thorns
Make a Crown of Thorns by combining four cups of flour with one cup of salt. Mix in strong tea until it is a stiff clay consistency. Roll out three long braids from the dough and braid tightly while forming a wreath circle. Make thorns by sticking toothpicks into the wreath in every direction. Let the dough dry at room temperature for up to 48 hours until really hard. Place a white candle in the middle of the circle at Easter time.
Grapevine Corwn Of Thorns
Purchase a grapevine wreath at a craft store. Use craft sticks or toothpicks to represent the thorns and position them throughout the grapevine wreath. You can use regular toothpicks or toothpicks that have a sharp point on both ends. Paint the toothpicks a dark brown for a more authentic look and to blend in better to the dark brown grapevine wreath.
Rosemary Crown Of Thorns
Shape rosemary clippings about five inches long into a circle. Tie the ends together with green string or twine. Glue the rosemary crown of thorns on to a white paper plate. Decorate the plate using crayons or markers. Children can spell out words related to Lent or Jesus dying on the cross such as "sacrifice" and "good deeds" around the rosemary wreath. Other, they can decorate the border of the plate with Christian symbols such as crosses and lambs.
Crown Of Thorns Color Craft
Access and print Easter coloring sheets from Internet websites. Children in Sunday School can color a picture of Jesus wearing a crown of thorns with crayons, or paint the picture with craft paints. If the children have access to a computer, they can color the same picture right on the computer screen by clicking on certain colors and then clicking on the area of the picture they want to color in.