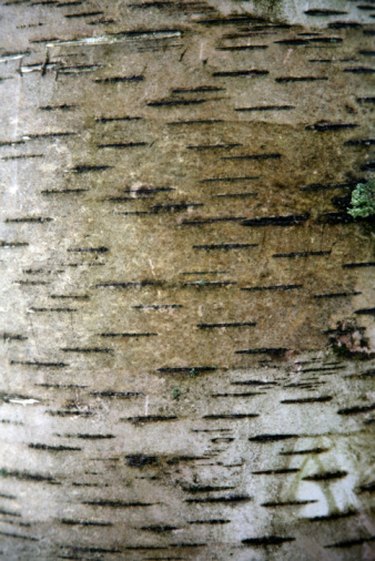 Birch bark is a flexible type of tree bark that is known for curling off the tree in pieces resembling sheets of paper. This property makes the bark popular for crafting and decorating especially for rustic themed projects. The bark can be glued to objects or formed into crafts adding natural charm and a woodsy theme to your decor.
The Canoe
Seen in displays or homes where rustic woodland charm is the decorative theme, this is also a popular and clever craft for Scouts or in a nature-themed lesson for school. A replica traditional birch-bark canoe is a simple project. Use a 3-inch-by-5-inch section of birch, cutting a "V" shape into the short ends of the bark. Then fold over the bark to resemble a canoe shape with the "V" forming the ends. Glue the ends together and let dry, and the canoe should be seaworthy, or just an adorable craft. These can be made larger if desired.
Holiday Deer
A cute, natural-looking addition to your Christmas display can recreate Rudolph or his teammates in birch. This is a fitting addition to a natural or rustic-themed holiday display. Two logs, one about half the size of the other, twigs and wood dowels are all that is needed. Four wood dowels are the legs. Drill holes in the larger log that serves as the body and insert the ends of the dowels. Use a short section of dowel as a neck and drill a hole in both the top of the body log, and bottom of the head, or shorter log. Glue together, add two branched twigs for antlers and decorate. Paint on eyes and a red or black nose, place a wreath around the neck or decorate however you prefer.
Picture Frames and Outlet Covers
Cover everyday items with birch bark for detail that adds that much to the decor of rustic- or woodland-themed rooms. Since birch is flat and flexible, it can easily be cut and pressed over an outlet or light-switch cover, taking it from plain to rustic in just a few minutes. A plain picture frame can also be easily covered, for a custom frame fit for the woodland-themed room.
Cubes and Cones
Geometric shapes are a common decorative element, using globes, cubes or cones that are decorated to fit the theme of the room. Cones and cubes can be created in a rustic or natural theme by covering them with the flexible birch bark. Buy Styrofoam brand foam shapes at a craft store, and glue the birch bark to the forms. Pin it in place until it dries. You can then stack the cubes or add them to a display with other rustic items such as moss or evergreen branches.