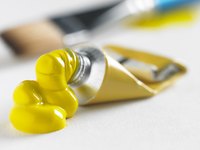 Paints have come a long way from the oil and powder mixes of the Renaissance greats. Today, paints come in every shade and color. You can also get metallic glazes or pearl paints. Pearl paints are popular among artists who love adding shine to their work without making the pieces "sparkly." Pearl paints are iridescent, with just a touch of sheen in the finished product. You don't have to purchase special paints; you just have to know how to use your extra crafting supplies to create your own glowing paint media.
Things You'll Need
White pearl embossing powder
Plastic containers
Acrylic paint
Wooden Popsicle sticks
Paintbrushes
Paper
Pour 1 tsp. white pearl embossing powder into each of your plastic containers. Set out as many containers as you want to make colors. For example, if you want to create four colors of pearl paint, set out four containers.
Squeeze 1 tsp. acrylic paint into each plastic container. Gently stir the paint and powder together until the paint begins to gleam and shine.
Add a little more powder and stir, if the powder doesn't seem to be distributing properly. Continue this way until you create the exact color of pearl paint that you want.
Paint your new pearl paint over already-painted areas on your art pieces.