Things You'll Need
Gold cardstock

Scissors

Craft knife

Foam cutting mat or wood cutting board

Stapler

Gold braid trim

White craft glue

Stick-on gems

Shiny candy wrappers

Sequins

Shiny buttons

Glitter

Red or purple velvet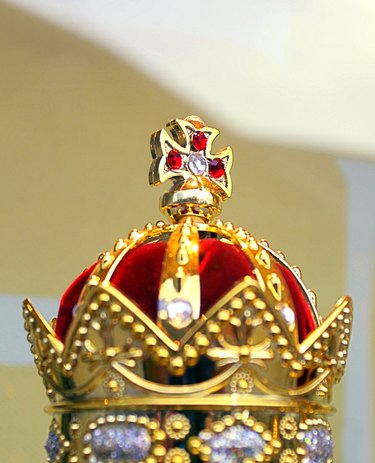 If you are dressing up as a king for a costume party or school theater production, an essential part of your costume is a fancy crown. However, you don't need to buy an expensive one from a store; with a few basic craft supplies you can make one quickly and easily at home. Make it as elaborate as you wish with plenty of embellishments and sparkle.
Step 1
Measure the circumference of your head. Cut a long rectangle of cardstock to the same length plus 2 inches.
Step 2
Cut one long side of the rectangle into fancy points using sharp scissors. Draw a design before you begin using straight and curved lines to form each side of the point, and repeat the same pattern on each point along the length of cardstock.
Step 3
Use a craft knife to cut out diamond shaped windows inside each point. Work on a foam cutting mat or wooden cutting board to protect surfaces.
Step 4
Wrap the crown around your head to check the measurement and staple the crown in position.
Step 5
Cut a circle of red or purple velvet approximately 4 inches larger than the diameter of the crown. With the right side of the velvet facing up, glue or staple it around the inside of the top edge so that it scrunches loosely to fill the center of the crown.
Step 6
Cut two long strips of gold card stock approximately 1 inch wide. Staple these to the inside of the top edge of the crown in a crisscross pattern. Staple the center point where the strips cross to the center of the velvet interior.
Step 7
Glue gold braid trim around the base of the crown. Add stick-on gems and glue embellishments all over the crown, such as shapes cut from shiny candy wrappers, sequins, and buttons.
Step 8
Cut a fancy cross shape for the top of the crown. Cut two pieces of gold card stock to the same shape and stick them back-to-back, leaving a fold out tab at the bottom of each side to glue it on to the crown. Fix it in place on top of the crown at the center point of the cross.
Warning
Keep buttons and small items that can pose a choking hazard away from small children.